Peugeot Spices Up WFC Prize Purse
Share:
Posted Jun 13, 2017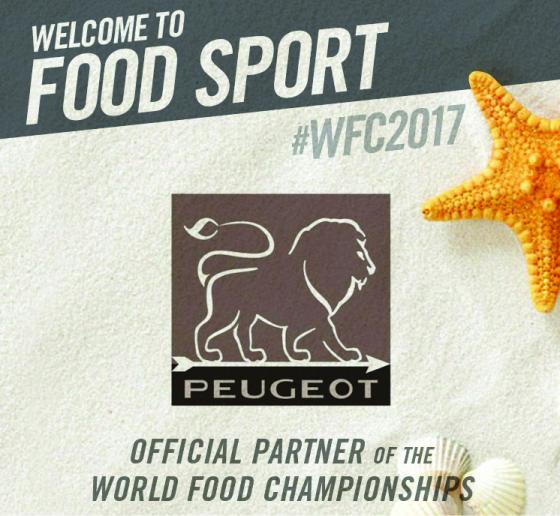 ORANGE BEACH, Ala. – (June 13, 2017) -- Peugeot Saveurs, the world's most celebrated spice mills producer, is joining the Ultimate Food Fight as an official partner of the 2017 World Food Championships.
In addition to being featured throughout the event's VIP areas, Peugeot's partnership with WFC means that every Food Champ who makes a category Top 10 will be rewarded with a prize pack of the company's most premium products.
"From pepper mills to corkscrews to whisky tasting sets, Peugeot products are championship quality in every aspect," commented Mike McCloud, president and CEO of WFC. "We are pleased to enter this new relationship and look forward to joining forces with Peugeot to help identify and reward the best Food Champs in the world."

Most people think of cars when they think of Peugeot. But since 1840, the company has developed a rich heritage in designing and manufacturing instruments for cooking and enjoying food at the table. Based in France, the brand is reminiscent of the French art of living, defined by two fundamental principles: excellence and pleasure. It has explored the territory of taste through a selection of exceptional peppers and salts and products that enhance every element of a recipe.
In its dedication to preserving its cherished region, the company only uses PEFC-certified wood, most of which comes the local forests of the Franche-Comté. Peugeot also recycles all sawdust and woodchips from the manufacturing plant and uses solvent-free paints on all mills.
"We're excited about our partnership with the 2017 World Food Championships, which celebrates food and the competing chefs," said Yvette Laugier, General Manager of PSP North America LLC.
To learn more about Peugeot Saveurs and its quality products, check them out at http://www.peugeot-saveurs.com/en.




About Peugeot Saveurs
Peugeot, the world leader in mills since 1840, offers the best in pepper and spice mills, coffee mills, fresh mills and wine accessories. Defined by its French heritage, generations of expertise, and its unsurpassed commitment to quality and innovation, the Peugeot brand offers high-performance professional tools for those who believe that sharing a great meal is one of the most satisfying pleasures of life.
Made in France, Peugeot products are exported to more than 80 countries worldwide. For more information, visit www.peugeot-saveurs.com.
About WFC
The World Food Championships (www.WorldFoodChampionships.com) features hundreds of culinary champions seeking food fame and fortune. The sixth annual event, scheduled for Nov. 8-14, 2017 at The Wharf in Orange Beach, Alabama, features 10 categories of competition before culminating in a high-stakes Final Table showdown for hundreds of thousands of dollars in cash and prizes. For all WFC updates, follow World Food Championships on Twitter (@WorldFoodChamp), and Facebook and Instagram (@WorldFoodChampionships).
« Back to News