WFC Announces "Key" Partner and Ingredient for Seafood
Share:
Posted Jun 2, 2017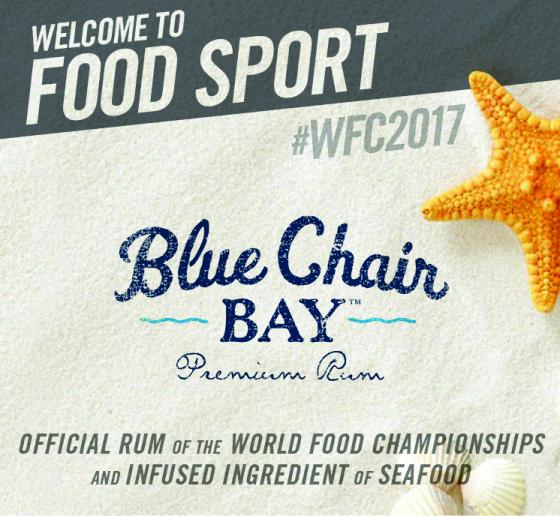 ORANGE BEACH, Ala. – (June 2, 2017) -- Food Champs, we hope you're sitting down for WFC's latest sponsor announcement. And may we suggest a blue chair?! That's because WFC is proud to announce that Blue Chair Bay® Premium Rum is joining Food Sport by becoming the Official Rum of WFC!
The partnership will also put one of Blue Chair Bay Rum's newest products at the heart of the Seafood Championship. Thanks to this new relationship with Kenny Chesney's Premium Rum, seafood contestants will be infusing Key Lime Rum Cream in their WFC Top 10 Seafood entries.
Blue Chair Bay Rum's name was created by sole owner and chief creative officer Kenny Chesney which was featured in his 2014 song "Old Blue Chair." All of the premium rums are 100% gluten free, less than 97 calories per 1.5 oz. and are made at one of the oldest distilleries in the Caribbean.
This flavored premium rum will make Alabama's foodies and contestants feel like their taste buds have been transported straight to Key West. From the fresh key lime notes to the rich, buttery middle, right up to the graham cracker crust finish, this rum will take every judge at WFC to paradise.
"We are thrilled with this new relationship," commented Mike McCloud, president and ceo of World Food Championships. "Infusing spirits and food has been one of our key goals over the past couple of years, and I simply love the opportunity our contestants will have to work with such a premium product like Blue Chair's new Key Lime Rum Cream."
"We have seen firsthand how our premium rum pairs well and infuses well with fantastic dishes," commented David Farmer, President, Blue Chair Bay Rum. "Making an official jump into Food Sport is an exciting moment for our brand and we can't wait to see what Food Champs create during the championship process."
For a complete list of Blue Chair Bay® Rum products or to order one prior to the championship, click here.
About Blue Chair Bay
From Down on the waterline in the Caribbean comes Blue Chair Bay® Rum, beach made and beach aged for when you want to kick back and let time fly. For more information, visit https://bluechairbayrum.com/where-to-buy/. For all updates, follow this premium rum on Facebook and Instagram (@BlueChairBayRum).
About WFC
The World Food Championships (www.WorldFoodChampionships.com) features hundreds of culinary champions seeking food fame and fortune. The sixth annual event, scheduled for Nov. 8-14, 2017 at The Wharf in Orange Beach, Alabama, features 10 categories of competition before culminating in a high-stakes Final Table showdown for hundreds of thousands of dollars in cash and prizes. For all WFC updates, follow World Food Championships on Twitter (@WorldFoodChamp), and Facebook and Instagram (@WorldFoodChampionships).
« Back to News