Jende Industries Rolls Into Alabama with Big Prizes
Share:
Posted May 25, 2017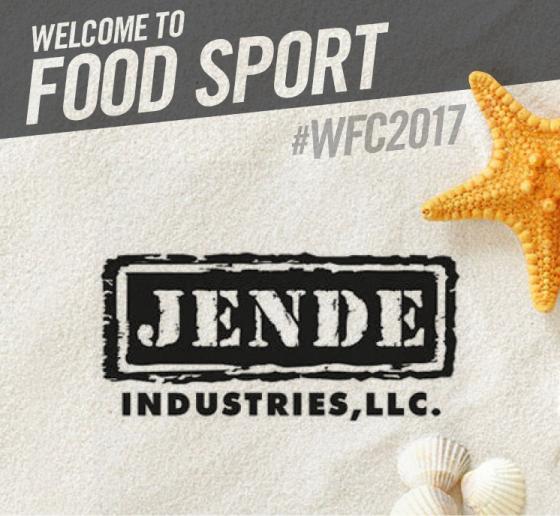 ORANGE BEACH, Ala. – (May 25, 2017) -- Jende Industries, a leader in custom knife rolls, is joining the Ultimate Food Fight to reward Food Champs with top quality products at this year's World Food Championships.
Jende will be awarding two variations, the Trifold and Standard Roll with WFC-branding, of its assortment of knife rolls along with Sharpening tools to the 1st, 2nd and 3rd overall winners at this year's Final Table. The rolls, which are made from 100% American manufactured materials and are built to last generations, feature 16 slots for knives (6 small, 6 medium and 4 large) and a small storage pouch. The whole case rolls into a compact tube that is supported by a virtually indestructible carbon fiber bar, making it easy to transport and store.
The top winners won't be the only ones racking up Jende products, though. Each WFC Category champion will be taking home a WFC-branded Jende apron. This WFC-embroidered culinary gear will have competitors looking sharp and professional all year round.
"We fully understand that professional chefs and serious home cooks can spend some serious coin on their knives. It's one way to make a personal statement about your cooking while still being functional," commented Tom Blodgett, President of Jende. "Storing them at home is usually easy, but if you travel with them for work or pleasure like Food Champs do, you will want to carry them in something that is protective, but also allows your personality to show through. That's where the Jende leather knife rolls come in."
"We've seen numerous chefs and competitors attend WFC over the years with Jende knife rolls, and we've always been impressed with their quality craftsmanship," commented Mike McCloud, President of World Food Championships. "Having Jende on board as one of our official partners is an exciting development, and we can't wait to introduce their products to a ton of new Food Champ contestants this year."
To learn more about Jende Industries and its quality products, check them out at https://www.jendeindustries.com or at their booth during WFC.
About Jende Industries, LLC
Jende - pronounced Jen-Duh - means "real", which is the driving force behind all of its products and services. All of the testing and planning is painstakingly carried out by the company so serious chefs and cooks can relax, knowing that their quality knives are protected by equally crafted carrying cases. All Jende products are backed with superior worldwide customer service. For all Jende updates, follow the company on Facebook (https://www.facebook.com/jendeindustries/).
About WFC
The World Food Championships (www.WorldFoodChampionships.com) features hundreds of culinary champions seeking food fame and fortune. The sixth annual event, scheduled for Nov. 8-14, 2017 at The Wharf in Orange Beach, Alabama, features 10 categories of competition before culminating in a high-stakes Final Table showdown for hundreds of thousands of dollars in cash and prizes. For all WFC updates, follow World Food Championships on Twitter (@WorldFoodChamp), and Facebook and Instagram (@WorldFoodChampionships).
« Back to News