Wampler's Farm Sausage Adding Extra Sizzle to World Chef Challenge
Share:
Posted May 11, 2017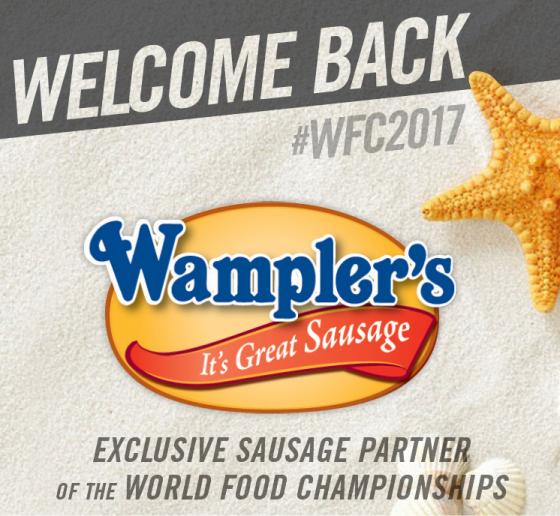 ORANGE BEACH, Ala. -- (May 11, 2017) It's no secret in the world of Food Sport that some chefs simply go "hog wild" when it comes to the competition. Great passion. Super recipes. Intense moments. And at WFC, those elements get infused with great products to determine who gets to bring home the big bacon!
That's why Wampler's Farm Sausage is rejoining WFC this year to see what award-winning chefs can create with its line of flavored, country-style sausage products. As a World Chef Challenge sponsor and official sausage of WFC, Wampler's will be providing contestants with a range of mild to spicy sausage products to see what creative recipes and clever chefs will sizzle to the top.
Whether their sausage products are on a bun, tossed in a pasta or served as breakfast, the dish possibilities are endless when it comes to this protein product! Either way, Food Champ Judges will be pigging out on these chef's sausage creations.
To help contestants get familiar with their product offerings, Wampler's is also joining the Taste of America Challenge (TOA), WFC's largest online recipe qualifier, as Tennessee's featured product. Participants will have the opportunity to win a Golden Ticket to WFC 2017 by infusing any Wampler's Sausage products into their TOA entry. TOA entries will be accepted between June 1 - July 5. Details on this program, including many other products and the overall qualifying process, will be released during the week of May 15.
"World Chef Challenge competitors are going to have some of the best products on the market to cook with while creating their delicious dishes," said Mike McCloud, CEO of World Food Championships. "We are thrilled to have Wampler's back in our lineup of partners for the 2017 WFC, and we can't wait to unveil many more of our new, exciting partners and ingredients as we roll into the best championship year yet."
"The Wampler's Farm Sausage Company is super excited to be 'the sausage' of the World Food Championships! WFC brings together the best of the best in Food Sport and we can't wait to see what the talented competitors bring to the table. It is an honor to be chosen as the Tennessee product for the Taste of America Challenge!" said CEO of Wampler's Farm Sausage Ted Wampler Jr.
Stay up to date on all WFC news and developments by following us on Twitter (@WorldFoodChamp), and Facebook and Instagram (@WorldFoodChampionships).
About Wampler's
Wampler's Farm Sausage is a company based out of Lenoir City, Tennessee committed to providing the safest and best-tasting sausage in the world. Beginning in 1937, Wampler's has evolved from the humble beginning of making sausage in the kitchen of the farm home of Mr. and Mrs. Riley M. Wampler. Wampler's is committed to sustainability and installed its first solar panels in 2009. Since then, Wampler's has increased the number of solar panels on site to reduce energy consumption, increased recycling, and decreased water usage and waste output. Investing in the earth's future - in areas of Sustainable Energy, Food, and Water, Wampler's Farm Sausage is the launch site for the first commercial Proton Power CHyP (Cellulose Hydrogen Power) System in the world. Find out more about Wampler's here.
About the World Food Championships
The World Food Championships (www.WorldFoodChampionships.com) features hundreds of culinary champions seeking food fame and fortune. The sixth annual event, scheduled for Nov. 8-14, 2017 at The Wharf in Orange Beach, Alabama, features 10 categories of competition before culminating in a high-stakes Final Table showdown for hundreds of thousands of dollars in cash and prizes. Follow World Food Championships on Twitter (@WorldFoodChamp), and Facebook and Instagram (@WorldFoodChampionships).
« Back to News