WFC Announces Green Alliance with Eco-Friendly Partner
Share:
Posted May 2, 2017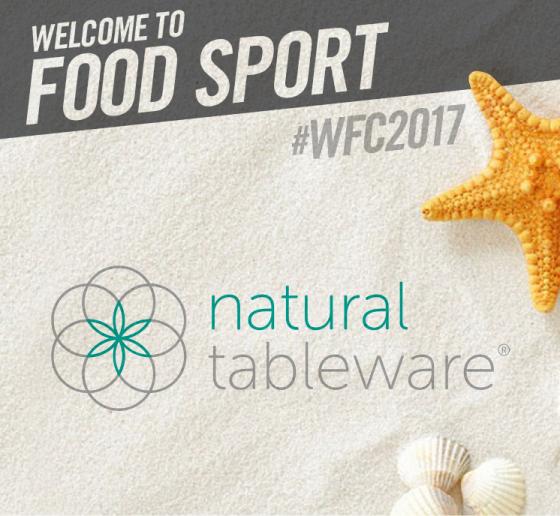 ORANGE BEACH, Ala. (May 2, 2017) -- WFC announced today that they have entered into a "green" alliance with Natural Tableware to make the world's largest food sport event as eco-friendly as possible.
By utilizing compostable, organic and renewable products from Natural Tableware, WFC hopes to support the company's vision of "phasing out plastic entirely by providing the world with bio-based alternatives."
Natural Tableware products — which include plate ware made of bagasse sugarcane byproduct, discarded palm leafs and even organic utensils — will be utilized in WFC's special events and key areas like the VIP Lounge, Food Champ Judging Classes, Bourb'n'Que and other activities throughout the week-long event.
"We are looking forward to this partnership with Natural Tableware," said World Food Championships CEO Mike McCloud. "Their products are quality constructed, versatile and good for the environment. It's only natural that we would forge a path with them that hopefully, many other events will do as well."
"Natural Tableware is excited to be partnering with the prestigious World Food Championships, and presenting our mission of reducing the plastic in the oceans and all corners of the earth to this outstanding audience," said North American President, Angela Castelli. "The opportunity to provide our unique products to these chefs from all over the world is a testament that we can make a difference reducing the amount of waste in our industry if we make the responsible choice"
Stay up to date on all WFC news and developments by following us on Twitter (@WorldFoodChamp), and Facebook and Instagram (@WorldFoodChampionships).
About Natural Tableware
Natural Tableware (www.NaturalTableware.com) provides products made from natural, organic and renewable sources. They set an example through educating their partners and users by being transparent with every aspect of their business, thus empowering everyone involved in the processes. Follow them on Facebook (@NaturalTablewareUSA), Instagram (@NaturalTableWare) and Twitter (@NaturalTablewar).
About the World Food Championships
The World Food Championships (
www.WorldFoodChampionships.com
) features hundreds of culinary champions seeking food fame and fortune. The sixth annual event, scheduled for Nov. 8-14, 2017 at The Wharf in Orange Beach, Alabama, features 10 categories of competition before culminating in a high-stakes Final Table showdown for hundreds of thousands of dollars in cash and prizes. Follow World Food Championships on Twitter (@WorldFoodChamp), and Facebook and Instagram (@WorldFoodChampionships).
« Back to News