WFC Adding More Dough To Food Sport's Largest Event
Share:
Posted Apr 11, 2017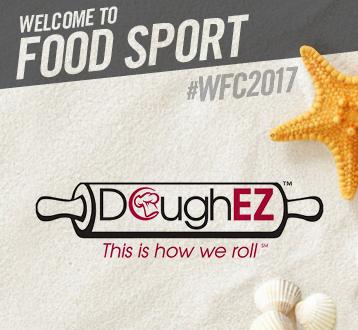 ORANGE BEACH, Ala. -- (April 11, 2017) -- WFC announced today that it's adding more dough to its competition this year. DoughEZ, that is. The Florida-based company is a specialty product provider to chefs and home cooks who work with flour during their recipe development or specialty dishes at competitions like WFC.
As part of the new sponsorship, DoughEZ's Dough Rolling Systems, which feature a unique non-stick pastry mat and guide rulers, will be featured in the World Dessert Championship. Every dessert competitor will be mailed a DoughEZ kit prior to the championship to become familiar with how easy and helpful the product is.
"We saw first hand how passionate Food Sport competitors are and how fun WFC is during last year's event," commented Brenda Byrne, Founder and Owner of Dough-EZ. "We were hooked immediately, and we can't wait to support everyone in the championship as they seek Food Sport's biggest crown."
In addition to the home and competition kits for dessert contestants, DoughEZ is also providing a kit to all Top 10 Finalists of each WFC category, as well as $300 worth of DoughEZ baking products to the ultimate World Food Champion.
To keep up with all WFC news, follow World Food Championships on Twitter (@WorldFoodChamp), and Facebook or Instagram (@WorldFoodChampionships).
About DoughEZ
DoughEZ is the faster, easier, cleaner way to prepare your favorite dough recipes from cookies, pie doughs, pasta, bread dough and more "This is how we roll." It is a simple rolling system solution to eliminate the floury mess and stress of over worked dough. For more details, follow DoughEZ on Facebook (@doughez) and Twitter (@Dough_EZ).
About the World Food Championships
The World Food Championships (www.WorldFoodChampionships.com) features hundreds of culinary champions seeking food fame and fortune. The sixth annual event, scheduled for Nov. 8-14, 2017 at The Wharf in Orange Beach, Alabama, features 10 categories of competition before culminating in a high-stakes Final Table showdown for hundreds of thousands of dollars in cash and prizes. For all WFC updates, follow World Food Championships on Twitter (@WorldFoodChamp), and Facebook and Instagram (@WorldFoodChampionships).
« Back to News