Hormel Foods Announces Return to WFC2017
Share:
Posted Mar 31, 2017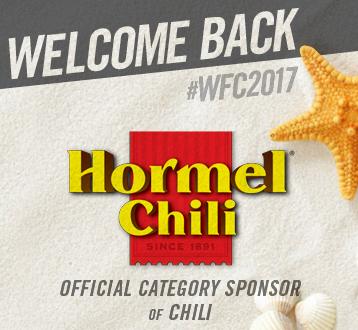 ORANGE BEACH, Ala. (March 31, 2017 ) – Hormel announced today that it will be returning as the presenting sponsor of the chili category at WFC 2017. With last year's sponsorship including discounted entry fees and even a Bro-Torch Cooking demonstration, Hormel® Chili will be looking to continue bringing fun and exciting elements to Food Sport's biggest event.
"Hormel has been a remarkable supporter and sponsor for Chili Nation, as well as WFC Food Champs in many unique ways," commented Mike McCloud, President and CEO of WFC. "We are thrilled to see them continue fueling the passion and culinary talent in our industry as a strategic partner to WFC."
Turns out that Hormel Foods, which has more than 20 of America's favorite brands, will be participating in Food Sport prior to and during the main event. Several of their products will be featured in WFC's Taste of America, which is the event's largest online qualifying process for competitors, and the event's Tasting Village, a low-cost, high-sampling opportunity for attendees.
During the championship at Orange Beach, Alabama, Hormel's products will also be used in both the Structured and Top 10 rounds of the Chili category. Details on specific requirements and dishes of this, as well as all other WFC categories, will be released August 1st.
"We're very excited to partner with the WFC again in 2017," says Mark E. Beierle, Hormel® chili brand manager. "This event celebrates people's love for chili and we're excited to see the new and creative recipes that the competitors will bring to the table."
Registration for WFC's chili category is now open at https://worldfoodchampionships.com/registration.
To stay in the loop on all WFC news and sponsors, follow us on Twitter (@WorldFoodChamp), and Facebook or Instagram (@WorldFoodChampionships).
About Hormel Foods
Hormel Foods Corporation, based in Austin, Minn., is a multinational manufacturer and marketer of consumer-branded food and meat products, many of which are among the best known and trusted in the food industry. Hormel Foods, which leverages its extensive expertise, innovation and high competencies in pork and turkey processing and marketing to bring branded, value-added products to the global marketplace, is celebrating its 126th anniversary in 2017. The company enjoys a strong reputation among consumers, retail grocers, foodservice and industrial customers for products highly regarded for quality, taste, nutrition, convenience and value. For more information, visit http://www.hormelfoods.com and http://2015csr.hormelfoods.com/.
About the World Food Championships
The World Food Championships (www.WorldFoodChampionships.com) features hundreds of culinary champions seeking food fame and fortune. The sixth annual event, scheduled for Nov. 8-14, 2017 at The Wharf in Orange Beach, Alabama, features 10 categories of competition before culminating in a high-stakes Final Table showdown for hundreds of thousands of dollars in cash and prizes. For all WFC updates, follow World Food Championships on Twitter (@WorldFoodChamp), and Facebook and Instagram (@WorldFoodChampionships).
« Back to News