WFC requires certification for all 2017 judges
Share:
Posted Mar 29, 2017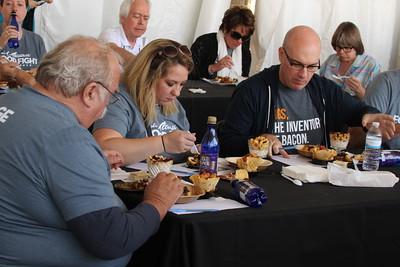 The World Food Championships announced today that judges for all of its 2017 categories will require official certification as a Food Champ E.A.T. Judge, or as a KCBS Certified Barbeque Judge.
Registration of judges for the 2017 Championships will begin March 30, with the first wave of confirmations occurring by June 30. But even if someone is confirmed, no person will be allowed to judge at the event unless they are officially listed in WFC's or KCBS's certified judging databases.
CBJ's will be used for the WFC Barbecue Championship, while E.A.T certified judges will be used in the remaining nine categories: Bacon, Burger, Chef, Chili, Dessert, Recipe, Sandwich, Seafood and Steak.
"We are focused on continuous improvement for our event, from entertainment and attractions to competition and judging," commented Mike McCloud, CEO of the World Food Championships. "Our event continues to draw tougher competition and better competitors from around the world, and it's only fair that we provide them with the best food judges and the best judging process possible."
For anyone wanting to judge but not yet certified, numerous BBQ classes are available throughout the country. To find one near you, visit http://www.kcbs.us/kcbs-classes/judge.
Several Food Champ E.A.T. classes are now available and being planned for the West Coast, Southeast and Orange Beach area. In fact, two classes have been scheduled for the week of WFC in Orange Beach on Tuesday, Nov 7th. To learn more about these options and upcoming classes, visit https://worldfoodchampionships.com/become-a-judge.
« Back to News