Rufus Teague Ready To Sauce Things Up At WFC
Share:
Posted Mar 28, 2017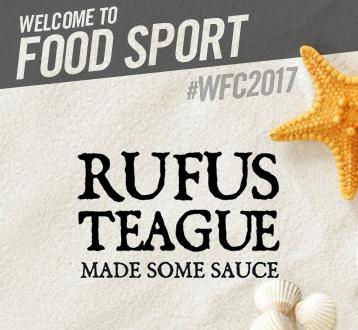 ORANGE BEACH, Ala. -- (March 30, 2017) -- The World Food Championships announced today that Rufus Teague has joined the Ultimate Food Fight as a sponsor in the barbecue category and will be hosting a special challenge as part of the event's Top 10 process.
No stranger to barbecue, Rufus Teague has been in the competition industry for years and now offers 11 different flavored sauce products. Teague's sauce is a premium blend that features the largest line of Non-GMO verified and Gluten-free sauces on the market.
"Our barbeque category is one of the hottest, toughest, most-decorated fields in the Food Sport industry," commented Mike McCloud, CEO of World Food Championships. "Adding more flavors and competition into the mix thanks to Rufus Teague ensures that our BBQ teams will be put to the test, all while having a lot of fun in the process."
"We're so proud to be a part of the World Food Championships this year and are pumped to see what the barbecue masters at this event do with meat, fire, and our Rufus Teague products," said John McCone, Founder of Rufus Teague.
As part of the overall WFC sponsorship, Rufus Teague will also be doing an online recipe contest called "Rufus' Blue-Ribbon Recipe Battle," giving teams around the nation a chance to win a coveted golden ticket and travel stipend to WFC. Details about this contest, as well as the Top 10 challenge at WFC, will be announced this summer on WFC's social media platforms.
About Rufus Teague
What started as a passion for the best Kansas City barbecue has led to an entire line of competition-tested, award-winning sauces and rubs. Established in 2004, Rufus Teague is now distributed nationwide and internationally for retail and foodservice. Founder, John McCone, insists each product be made with the finest ingredients and be healthy and delicious as each bottle can hold. Products are proudly Non-GMO verified and Gluten-Free. Why? Because Rufus always knew, "Good sauce makes bad barbecue good and good barbecue gooder." For more information, follow Rufus Teague on Instagram (@rufusteaguebbq) and Facebook (@RufusTeague).
About the World Food Championships
The World Food Championships (www.WorldFoodChampionships.com) features hundreds of culinary champions seeking food fame and fortune. The sixth annual event, scheduled for Nov. 8-14, 2017 at The Wharf in Orange Beach, Alabama, features 10 categories of competition before culminating in a high-stakes Final Table showdown for hundreds of thousands of dollars in cash and prizes. For all WFC updates, follow World Food Championships on Twitter (@WorldFoodChamp), and Facebook and Instagram (@WorldFoodChampionships).
« Back to News