WFC's SANDWICH CATEGORY RAISED TO THE GOLD STANDARD
Share:
Posted Mar 21, 2017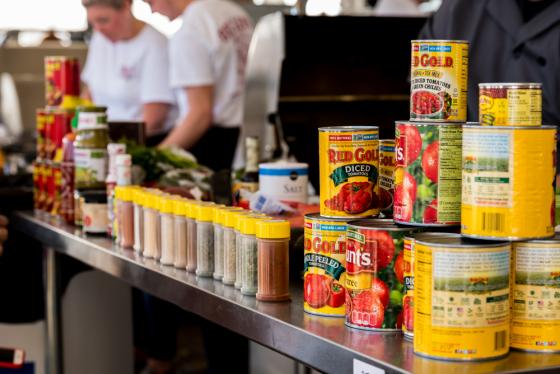 ORANGE BEACH, Ala. (March 16, 2017) – Some say platinum is the highest standard of all, but not at World Food Championships. We still believe that it's the Gold standard that matters, especially when it comes to Red Gold!
WFC proudly announced today that Red Gold Tomatoes will sponsor its 2017 Sandwich Category as they return to Orange Beach for the Ultimate Food Fight in November.
This Indiana-based manufacturer of premium quality tomatoes will also present an online recipe automatic qualifier in the upcoming months, giving chefs and home cooks a chance to show off their sandwich creations and earn a coveted Golden Ticket. The winner will represent Red Gold Tomatoes at WFC, where $10,000 is up for grabs as the champion of the sandwich division, as well as a seat at WFC's Final Table for much more.
Like last year, Red Gold products will be included in the WFC pantry where they will be providing Ketchup and Canned Tomatoes for the use of WFC competitors.
"We're thrilled to welcome back Red Gold to our lineup of incredible sponsors. Their premium quality products are exactly what our Food Champs are expecting to find and work with in our Champions Pantry," said Mike McCloud, CEO of World Food Championships. "Through partners like Red Gold, we believe culinary artisans are getting to experience and display Food Sport like never before."
"Red Gold is excited to partner with the World Food Championships," said David Halt, Red Gold's Divisional Vice President of Food Service Sales." Educating chefs and restaurateurs about what Red Gold tomato products can offer their recipes and food operations is our passion. We can't wait to see what they'll cook up this year!"
###
About Red Gold
Red Gold (www.RedGoldFoods.com) has been producing premium quality tomato products for 75 years. Red Gold produces premium quality canned tomatoes and tomato-based products for retail, foodservice, private brands, and club stores. The Red Gold family of consumer brands includes Red Gold, Redpack, Tuttorosso, Huy Fong, and Sacramento. Exceptional quality and operational excellence are the shared values that contributed to the employee-created mission statement: "To produce the freshest, best tasting tomato products in the world".
About the World Food Championships
The World Food Championships (www.WorldFoodChampionships.com) features hundreds of culinary champions seeking food fame and fortune. The sixth annual event, scheduled for Nov. 8-14, 2017 at The Wharf in Orange Beach, Alabama, features 10 categories of competition before culminating in a high-stakes Final Table showdown for hundreds of thousands of dollars in cash and prizes. Follow World Food Championships on Twitter (@WorldFoodChamp), and Facebook and Instagram (@WorldFoodChampionships).
« Back to News