WFC 2017 Will Be Cooler Than Ever With Orion's Return
Share:
Posted Mar 16, 2017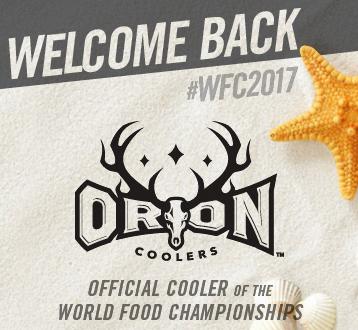 ORANGE BEACH, Ala. – (March 16, 2017) Orion Coolers, the Official Cooler of the World Food Championships, announced today a new promotion for all contestants entering the Ultimate Food Fight this November.
As a food accessories leader in the premium cooler space, and to help everyone prepare for a hot summer of competition, Orion will be offering a FREE 27-ounce, black stainless steel tumbler with a WFC logo for any WFC contestant (past or present) who orders an Orion cooler prior to the championship. The offer includes free shipping when the contestant uses the promo code "FoodChamp" at http://www.orioncoolers.com/WFC2017. Like last year, Orion will also be outfitting each of the 50 kitchen stations at WFC 2017 with a large cooler to provide extra storage space for contestants and their ingredients.
"We were thrilled with our introduction to Food Sport and the awesome welcome by Food Champs last year," said Eric Jackson, CEO of Orion Coolers. "Ours is the most innovative cooler on the market, the most customizable with a number of features ideal for the serious home cook, chef and competitor. As we expected, our new relationship with WFC is already producing some incredible ideas for future developments in our line, some of which we plan to unveil this November."
Every Orion cooler is engineered with 2+ inches of insulation, reinforced corners, multiple anchor points, integrated bottle openers and mounting tracks for a host of accessories like bottle and gadget holders, GoPro mounts, knife holders and a UtiliTop that serves as a removable, adjustable minibar, spice rack or workstation. The coolers are lockable, certified bear resistant and include a high-density foam pad on the cooler lid for comfortable seating.
"We chose to partner with Orion Coolers because they are focused on quality as well as ingenuity. We're excited to help them expand their presence in Food Sport through the ultimate food fight," said Mike McCloud, CEO of World Food Championships. "Our Food Champs have told me numerous times how much they love these coolers. And I'm excited that Orion continues to seek feedback from our community to make their products even more customized for our competitors."
About Orion
Orion Coolers, named for the Orion, the 'Great Hunter of Greek legend, are designed and crafted in Tennessee, and offer superior ice retention, incredible durability and unmatched innovation for those who do not settle for inferior performance in their equipment. In the field, on the water, in competitions, when the heat is on, Never lose your cool™. Follow Orion Coolers on Twitter, Facebook and Instagram (@OrionCoolers).
About WFC
The World Food Championships (www.WorldFoodChampionships.com) features hundreds of culinary champions seeking food fame and fortune. The sixth annual event, scheduled for Nov. 8-14, 2017 at The Wharf in Orange Beach, Alabama, features 10 categories of competition before culminating in a high-stakes Final Table showdown for hundreds of thousands of dollars in cash and prizes. For all WFC updates, follow World Food Championships on Twitter (@WorldFoodChamp), and Facebook and Instagram (@WorldFoodChampionships).
« Back to News