Cowboy Charcoal Adds Heat to Fire & Ice Series
Share:
Posted Mar 9, 2017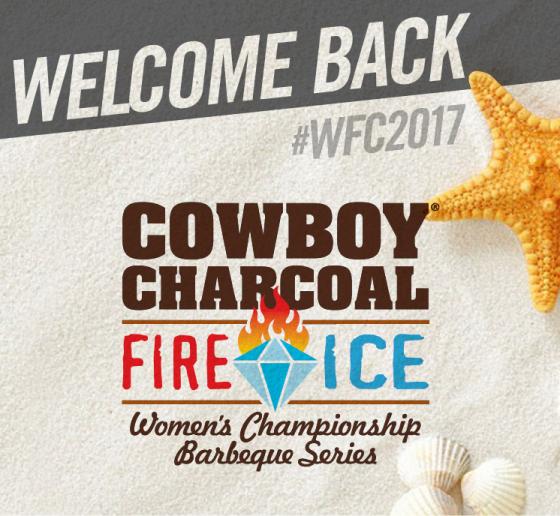 ORANGE BEACH, AL. – Cowboy Charcoal (www.cowboycharcoal.com), part of the Duraflame, Inc. family of products, is stoking the fire once again by returning to WFC 2017 as the event's Official Charcoal. It's also amping up the rewards and benefits of the 2nd Annual Fire & Ice Women's Championship Barbeque Series, which will be hosted again at WFC with a Top 10 challenge in November.
The series is an exclusive competition for female teams in the Kansas City Barbeque Society pro circuit and enables teams to accrue points at all sanctioned events throughout the year. Last year, 27 teams competed in the series and 10 made the trip to WFC for a dual challenge in grilling and barbeque techniques.
The Grand Champion and additional teams that make the Top 10 will benefit from a larger prize purse of $25,000 in cash and diamonds this year! In addition, Deep South Smokers will also award the grand champion with one of its customized smokers, which is worth more than $5,000!
"Cowboy Charcoal and its line of all-natural wood charcoal products are a great addition to our world-class event. We are delighted to have them back as a key sponsor and to once again host the Fire & Ice Female Championship finals," said Mike McCloud, CEO of World Food Championships.
"We are thrilled to participate as the Official Charcoal Sponsor and a BBQ category sponsor of the World Food Championships," said Chris Caron, Vice President and General Manager of Duraflame, Inc. "We're also excited to partner with KCBS in Year Two of the Fire & Ice Championship, celebrating the impactful contributions of female pitmasters in the world of BBQ. We look forward to witnessing their inspirational skills at the grill ('fire'), and will be awarding the top 10 KCBS female-pitmaster teams with custom diamond jewelry ('ice'), as well as a spot in the World Food Championships this November."
Registration for the Cowboy Charcoal Fire & Ice Women's Championship BBQ Series is currently open and is free of charge for KCBS members. To sign up or learn more, visit www.cowboyfireandice.com.
About the World Food Championships
The World Food Championships (www.WorldFoodChampionships.com) features hundreds of culinary champions seeking food fame and fortune. The sixth annual event, scheduled for Nov. 8-14, 2017 at The Wharf in Orange Beach, Alabama, features 10 categories of competition before culminating in a high-stakes Final Table showdown for hundreds of thousands of dollars in cash and prizes. Follow World Food Championships on Twitter (@WorldFoodChamp), and Facebook and Instagram (@WorldFoodChampionships).
« Back to News