Gulf Shores & Orange Beach Tourism Returns as Host of Food Sport's Biggest Event
Share:
Posted Mar 7, 2017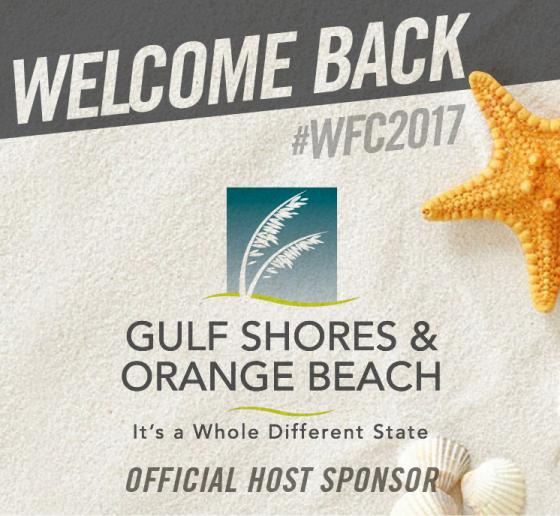 ORANGE BEACH, ALA. –Gulf Shores & Orange Beach Tourism (www.orangebeach.com), representing the Alabama Gulf Coast's premier beach destination, has signed as the 2017 title sponsor of the World Food Championships (www.WorldFoodChampionships.com), making Orange Beach once again the Official Host Site of this year's ultimate food fight.
The arrangement ensures the Gulf Shores & Orange Beach area capitalizes on the energy, excitement and economic impact of an anticipated 1,500 chefs, home cooks and competition teams from around the world as they compete for food, fame and fortune.
World Food Championships (WFC), which last year attracted competitors from 48 states and 14 countries, will return Nov. 8-14 to The Wharf (www.alwharf.com), a resort destination with a full-service marina, retail, dining and entertainment options anchored by a multi-use event center and a 10,000-seat amphitheater.
"Food sport proved to be an extremely popular addition to our sports events mix last year, ," says Vice President of Sales & Sports Beth Gendler. "Sports competitions have truly diversified our destination, and this ultimate food fight helps us diversify even further."
The bulk of these Orange Beach-based food fights will occur in the Kitchen Arena, the largest outdoor kitchen in the world, measuring a full city block at 7,800-square feet. The arena features $250,000 worth of stoves, cooktops, countertops and cookware – enough for 50 chefs to compete simultaneously. An additional $100,000 worth of professional grills from Bull Outdoor Products affords open-flame grilling in the burger and steak categories.
"The World Food Championships strongly and very positively impacted room nights and the number of people visiting our community during the fall shoulder season," Gendler said. "Competitors and their families told us over and over how welcomed they felt on the Alabama Gulf Coast, how surprised they were by our beaches and all the things to do here, and they can't wait to come back for the 2017 competition!"
Last year, the World Food Championships brought an estimated $3.3 million impact to the Alabama Gulf coast region, while also drawing more than 20,000 attendees to The Wharf.
The World Food Championships has experienced rapid growth since its creation in 2012 as the richest and largest Food Sport competition in the world. From a 30% annualized growth in competitors, to its third TV series scheduled to air this summer, the WFC has evolved into a year-long quest for thousands of competitors and foodies, as well as a marketing platform for innovative companies interested in WFC's national media exposure which eclipsed 690 million impressions last year.
"We were blown away with our first event in Orange Beach," commented WFC President Mike McCloud. "The community truly came out to support us in many ways, and our food competitors were astounded with the facilities, location and attractions in the area."
Gulf Shores & Orange Beach Tourism welcomes more than 6 million individuals to the Alabama Gulf Coast each year for vacations, family reunions, meetings and sporting events. Marked by its 32 miles of sugar-white sand beaches, deep-sea fishing and countless family attractions, the Gulf Shores and Orange Beach area is one of the world's leading beach destinations. Centrally located along the Gulf Coast, and a short drive from airports in Pensacola, Fla. and Mobile, Ala., the area's lodging properties are ideal for beach-side access or inland retreats that are both convenient and affordable. An array of restaurants, fishing, golf, shopping, and nature and adventure-based excursions add to its popularity.
« Back to News