Bull Outdoor Products Comes Roaring Back To WFC
Share:
Posted Mar 1, 2017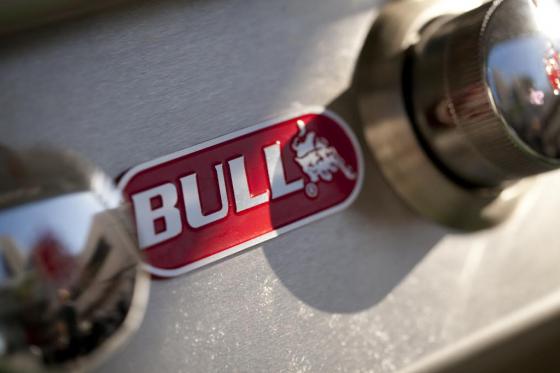 Orange Beach, Ala. – Bull Outdoor Products, Inc., a world leader in the manufacturing of premium BBQ Grills and Outdoor Kitchens, announced a big benefit for competitors today as they return to the World Food Championships for 2017. As the Official Grill of WFC, Bull will be providing the first 300 registered competitors an incentive equal to their entry fee of $300. Coupon details are coming soon.
"The competitor field at an event like the WFC is filled with some of the best cooks in the world," said Wade Fortin, former two-time World Burger Champion and Marketing Manager for Bull. "We at Bull believe that these competitors should be using the best products in the world, including the best BBQ Grill. So, we've decided to offer the first 300 registered competitors a Food Champ Coupon worth $300 toward the purchase of any Bull grill or outdoor kitchen."
"This is an incredible offer for our competitors," commented WFC President Mike McCloud. "It's partners like Bull who are truly helping Food Sport grow, and I'm delighted to see our Food Champs benefit from their involvement with WFC."
As it has over the past six years, Bull plans on bringing more than 60 premium grills and outdoor kitchens valued at more than $100,000 to Orange Beach, Ala. That means that the world's largest outdoor cooking arena will once again feature Bull's premium Steer three-burner grills. These grills come standard with the company's proprietary Reli-A-BULL technology, which was developed in conjunction with California Polytechnic to eliminate uneven heating and enhance outdoor cooking experiences.
One of the biggest advantages to using a Bull Premium BBQ Grill in competitions like the WFC is its ability to perform with exceptional results. The powerful 15K BTU burners heat up very quickly, allowing a competitor to focus on his or her food rather than worrying about the grill. This versatility is not exclusive to just burger and steak. In fact, the Bull grills can easily be used as an oven or to sauté, making it one of the most important tools in the competitor's arsenal.
"Bull's products are a vital part of the WFC competition," said Mike McCloud, CEO of World Food Championships. "Our Food Sport athletes have found innovative ways of using Bull grills across all the category competitions every year, and the exceptional on-site service we get from Bull is crucial for the jam-packed days of competition during our tournament process."
# # #
About Bull Outdoor Products
Bull Outdoor Products Inc. is a leading innovator and manufacturer of quality branded products developed and designed for the outdoor living marketplace. Its products are sold to customers in specialty retail, hearth, hardware, appliance, building materials and the building trade throughout the US, Canada, Europe, South and Central America. Bull is committed to providing the most complete line of premium products at the best value in the industry. Specific product categories include grills, cart grills, grilling accessories, rubs, sauces, fire features, outdoor kitchens and their components. The company was founded in 1993 and is currently headquartered in Lodi, California with two other factories and dealer showrooms located in Athens, Tennessee and Rialto, California. http://www.bullbbq.com
About the World Food Championships
The World Food Championships (www.WorldFoodChampionships.com) features hundreds of culinary champions seeking food fame and fortune. The sixth annual event, scheduled for Nov. 8-14, 2017 at The Wharf in Orange Beach, Alabama, features 10 categories of competition before culminating in a high-stakes Final Table showdown for hundreds of thousands of dollars in cash and prizes. Follow World Food Championships on Twitter (@WorldFoodChamp), and Facebook and Instagram (@WorldFoodChampionships).
« Back to News