FROM PROFESSIONAL BAKER TO WFC 2016 DESSERT CHAMPION
Share:
Posted Feb 17, 2017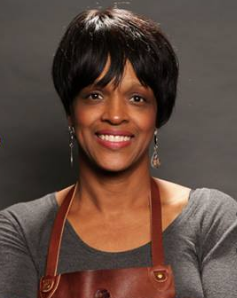 By day, Evette Rahman of Orlando, FL pays the bills as a professional baker, but she never has never seen profits like her weekend spent competing at the World Food Championships last November at The Wharf in Orange Beach, AL. Rahman had previously been a contestant at the WFC in Las Vegas and Kissimmee, FL, but this year she took home the $10,000 prize as the World Dessert Champion.
The World Food Championships are unique as the largest competition in Food Sports and also as the only event where professional chefs compete against home cooks and avid weekend warriors who participate in contests across the country and around the world.
At the WFC, winners are selected tournament-style in nine food categories: Barbecue, Chili, Burger, Sandwich, Recipe, Bacon, Dessert, Seafood and a new category for 2016, Steak. After qualifying through regional and international competitions or online recipe contests, WFC participants cook two dishes for the chance to move on to the Top Ten round in their category, and ultimately the $10,000 prize for winning the bragging rights as champion of their division. Dishes are evaluated by trained judges using the WFC's proprietary EAT (Execution/Appearance/Taste) criteria to determine who will advance to the Final Table to compete against the winners of the other eight categories.
To earn her spot at the Final Table, Rahman bested several dozen other contestants in preliminary rounds that required her to work within predetermined guidelines such as a mandatory use of cream cheese as an ingredient and her take on a classic orange crepe. There was also a cook's choice round for her to show off her signature skills as a baker, passed down from her mother and perfected at her day job. When the flour cleared, Rahman found herself the World Dessert Champion after blowing away the competition in the Top Ten round.
At the Final Table, the panel of judges included award-winning competitive chefs like Chris Lilly and Jason Stucki, celebrity chef/restaurateurs Bob Baumhower and Vic Vegas, and Katie Barreira, the Test Kitchen Director for Time, Inc. Food Studios. Together with her husband, Andy, Rahman relied on one of her go-to recipes from her bakery to impress the distinguished group of judges.
As the three-time defending champion at the APC National Pie Championships, her instincts are excellent, but in this case she fell just short of winning the big $100,000 award and the title of World Food Champion. Rahman is still proud of being the World Dessert Champion, and after three years of competing, it would be no surprise to see her on the top step of the winner's podium some time soon!
« Back to News