2016 RECIPE CHAMPION CRACKS AWAY AT THE COMPETITION WITH PERFECT SCORING EGGS BENEDICT
Share:
Posted Jan 27, 2017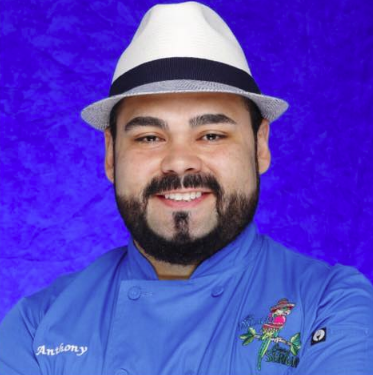 ORANGE BEACH, AL. -- As a restaurant owner and caterer in Chandler, AZ, Chef Anthony Serrano is quite comfortable in the kitchen, but at this year's World Food Championships held in November at The Wharf in Orange Beach, AL, the kitchen was out of doors. Fifty cook stations were set up under tents in view of thousands of spectators as contestants battled it out for the title of World Food Champion and their portion of more than $300,000 in cash and prizes.
The World Food Championships are unique as the largest competition in Food Sports and also as the only event where professional chefs compete against home cooks and avid weekend warriors who participate in contests across the country and around the world.
At the WFC, winners are selected tournament-style in nine food categories: Barbecue, Chili, Burger, Sandwich, Recipe, Bacon, Dessert, Seafood and a new category for 2016, Steak. After qualifying through regional and international competitions or online recipe contests, WFC participants cook two dishes for the chance to move on to the Top Ten round in their category, and ultimately the $10,000 prize for winning the bragging rights as champion of their division. Dishes are evaluated by trained judges using the WFC's proprietary EAT (Execution/Appearance/Taste) criteria to determine who will advance to the Final Table to compete against the winners of the other eight categories.
2016 was Serrano's third appearance at the World Food Championships after qualifying to return by winning an ancillary "Fight Night" cooking contest at last year's WFC in Kissimmee, FL. His winning dish was his signature Blood Orange and Cola braised carnitas taco on a bacon tortilla. His bacon experience stood him in good stead as the Recipe category in which he competed in Orange Beach had the special theme of breakfast this year.
In the first rounds of competition, Serrano prepared a compulsory dish in the "structured build" event, cooking up his version of an Eggs Benedict that received a perfect score from the judges. After scoring high again in the cook's choice round, Serrano advanced to the Top Ten where he eked out a close win. For his efforts, he was rewarded with $10,000 and the title of World Recipe Champion.
He also earned a trip to the Final Table where the panel of judges included award-winning competitive chefs like Chris Lilly and Jason Stucki, celebrity chef/restaurateurs Bob Baumhower and Vic Vegas, and Katie Barreira, the Test Kitchen Director for Time, Inc. Food Studios. Faced with this august panel of knowledgeable judges as well the world champions in eight other food categories, Serrano made the choice to "dance with who brought him" for his final dish for the chance at a hundred grand. "I decided to go with a variation of my structured dish, that earned a perfect score, and incorporate some other components from other dishes I made."
In the end, his Eggs Benny fell slightly short of the top prize, but Serrano returned to Arizona with his category winner prize money plus some great memories. "It was a dream come true. I was overcome by excitement and joy I felt like I was going to cry. It was a validation of my life's work and that of my family's life work."
« Back to News