WFC ANNOUNCES 2017 QUALIFYING EVENTS
Share:
Posted Jan 6, 2017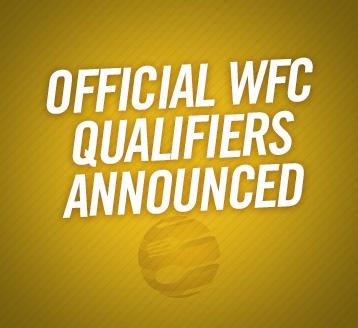 Orange Beach, Ala (Jan. 6, 2017) — The World Food Championships announced today its preliminary list of 2017 Automatic and Elite Qualifier events, which will help determine the field for the 6th annual WFC, the largest Food Sport event in the world.
Elite cooking teams, pro chefs and seasoned home cooks from across the globe will compete in ten categories -- Barbecue, Bacon, Burger, Chili, Dessert, Recipe (with Chicken as the focus), Sandwich, Seafood, Steak, and now the World Chef Challenge -- to determine Champions in each. Those ten winners will face off against each other in WFC's ultimate food fight, The Final Table, to determine the overall 2017 World Food Champion.
Since every competitor has to win his or her way into the event, WFC has created multiple ways to capture a coveted WFC Golden Ticket, primarily through the Automatic Qualifier (AQ) events, listed in the attached .pdf file below.
Additionally, WFC has partnered with a number of events and companies to conduct Elite Qualifiers (EQ), which offer a series, numerous categories at a single competition, or additional financial assistance to the winners for their trip to WFC. Some of these Elite Qualifiers are still in the works. So separate announcements for them, including our growing list of International Qualifiers, will be issued as they are finalized.
As a reminder to all contestants, competitors who finished in the Top 10 of their categories in 2016 do not have to qualify for 2017's event. They simply have to register online through our system, which will be open for registrations on Feb 1, 2017.
The 2017 World Food Championships will once again be held at The Wharf in Orange Beach, Alabama. The official competition week is scheduled for Nov 8th through the 12th, with the Final Table slated for Nov 14th.
For a full list of the 2017 Automatic Qualifiers, check out this .pdf file.
To review the current list of 2017 WFC Elite Qualifier Events, see below:
Michigan Apple Recipe Contest Lansing, Michigan (January 25, 2017)
For a decade, the Michigan Apple Committee has sponsored the Michigan Apple Recipe Contest in Frankenmuth, Michigan. Amateur cooks from all over the state have participated in the event. The competition celebrates the versatility of Michigan Apples as an ingredient.
Canadian Food Championships Edmonton, Alberta, Canada - (July 21-23, 2017)
Events Edmonton has partnered with the World Food Championships to host one exclusive qualifying event in 2017 for Canadian residents. The Canadian Food Championships is a year long search for Canada's best cooks. The search has produced two world champions so far, and promises to discover even more talented cooks as it expands in 2017.
Culinary Fight Club Various Locations (Monthly)
Think Top Chef meets Fight Club meets pop-up restaurant. THAT's what you get when a Culinary Fight Club comes to town! And this year, there will be more Clubs and more qualifying events than ever. From Atlanta to Chicago to Kansas City and more, there's bound to be a pop up event near you soon.
Food Champ Online Recipe Contests
Every year, WFC partners with key brands to bring you an online way to cook your way to a Golden Ticket. We will begin announcing these contests in February and they will run through August of 2017.
#Taste of America
Now in its second year, our #Taste of America is a United States qualifier to discover the best flavors and dishes American cooks have to offer! So get out your appliances, sharpen your skills and strap on those aprons. It's time to cook your way into representing your state at the Ultimate Food Fight! Stay tuned for official rules and start dates.
#Taste of the World
This year, WFC will launch a new online qualifier system to discover the best international flavors! It will work like #Taste of America, but will be devoted to foreign chefs and cooks who want to make their debut at WFC. Be on the lookout for our official announcement!
Bull Burger Battles
As always, Bull Outdoor Products is on a nationwide search to find the country's best burger! This year's Burger Battle may take a new twist, though. So stay tuned for an announcement in February about how Team Bull plans to charge into WFC2017!
Team Reinhart Foodservice
Like last year, Reinhart Foodservice has teamed up with the World Food Championships to bring you a variety of 2017 Qualifying Events! Through this series of select events in key cities, winners will become part of Team Reinhart to compete in numerous categories at WFC. Stay tuned for details to be released soon.
Just A Pinch
One of our longest standing recipe partners, Just A Pinch, will be back again this year to help home cooks fight their way to the championship! So stay tuned for another great series of contests to be announced soon.
For a full list of the 2017 Automatic Qualifiers, check out this .pdf file.
« Back to News