WFC's First Female Champion "Steaks" Her Claim
Share:
Posted Dec 11, 2016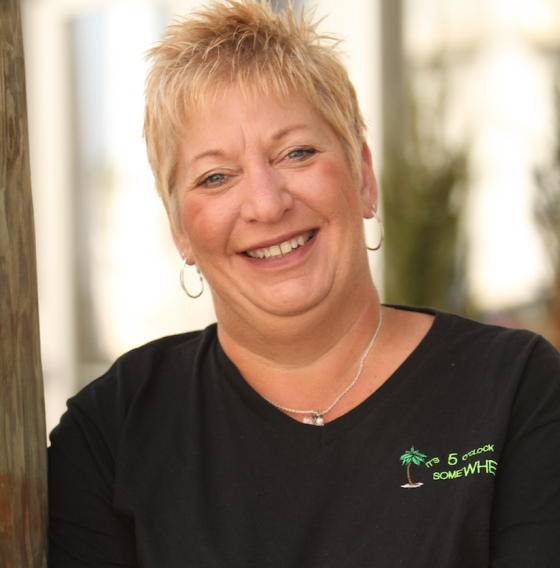 Kari Luke spends her life surrounded by food. Together with her husband, Bryan, Luke owns a convenience store in Cissna Park, IL, a small town between Chicago and Champaign. From this modest locale, the world of competitive cooking has thrust Luke into the headlines as the newly-crowned World Food Champion thanks to her signature rib-eye steak that wowed a distinguished panel of judges at the fifth annual World Food Championships held in November at The Wharf in Orange Beach, AL.
Luke and her husband are not strangers to the world of Food Sport as members of a Kansas City Barbecue Society competitive cooking team named "It's 5 O'Clock Somewhere." In addition to cooking barbecue, Luke competed at last year's WFC in the Dessert category before winning a shot to return to try again through a qualifier contest in Lincoln, IL. The World Food Championships are unique as the largest competition in Food Sports and also as the only event where professional chefs compete against home cooks and avid weekend warriors who participate in contests across the country and around the world.
At the WFC, winners are selected tournament-style in nine food categories: Barbecue, Chili, Burger, Sandwich, Recipe, Bacon, Dessert, Seafood and a new category for 2016, Steak. After qualifying through regional and international competitions or online recipe contests, WFC participants cook two dishes for the chance to move on to the Top Ten round in their category, and ultimately the $10,000 prize for winning the bragging rights as champion of their division. Dishes are evaluated by trained judges using the WFC's proprietary EAT (Execution/Appearance/Taste) criteria to determine who will advance to the Final Table to compete against the winners of the other eight categories.
Luke earned her way to the Final Table with a refined take on round 1's structured build of her version of a Steak Oscar followed by a cook's choice for round 2. In the Top Ten, Luke and her fellow competitors used the special "infused ingredient" of red wine (by Josh Cellars) to create their dishes to present to the judges.
At the Final Table, the panel of judges included award-winning competitive chefs like Chris Lilly and Robyn Almodovar, celebrity chef/restaurateurs Bob Baumhower and Vic Vegas, and Katie Barreira, the Test Kitchen Director for Time, Inc. Food Studios. Faced with this august panel of knowledgeable judges as well the world champions in eight other food categories, Luke knew she had to go big or go home. "Our main objective was to make the BEST steak the judges have ever tasted and at the same time, keep the presentation simple," recalls Luke.
The plate that Luke came up with was undeniably delicious, but also very straightforward. "We are rib-eye steak eaters and felt that we could compete well with the steak that Bryan prepares. We like to have fresh bacon-wrapped bbq shrimp along with sauteed mushrooms when we fix steak for ourselves, so we decided to prepare this for the judges, as well. The wine reduction sauce that we accented the dish with is a family recipe."
In the end, Luke eked out the narrowest of victories over second place, defeating James Aptakin and his seafood dish by a quarter of a point on the 1-100 scale. For her win, Luke took home the title of World Food Champion and the $100,000 grand prize. Above all, Luke appreciates being a part of the Food Sport community. "This is definitely a life changing experience for us. It is a great opportunity to meet new people, enjoy the ones you have had the pleasure of meeting before, and most of all, just being a part of the whole venue. Every day that we were there, we experienced something new and different."
« Back to News