Hawaiian Chef Joins WFC "Ohana" as Reserve Grand Champion
Share:
Posted Dec 10, 2016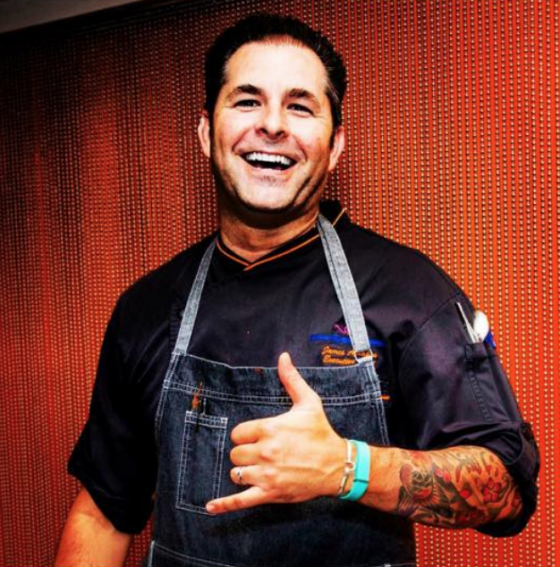 James Aptakin of Honolulu may have been a rookie competitor at the fifth annual World Food Championships held last November at The Wharf in Orange Beach, AL, but he's no stranger to cooking under pressure. Not only does Aptakin run his own catering company, Layers of Flavor, but he also has decades of experience cooking in massive hotel kitchens and leading culinary staffs as an executive chef. But perhaps the job where he best learned to operate in a high pressure environment was as a cook on the USS Abraham Lincoln, feeding 6000 sailors per day on a Nimitz Class nuclear-powered aircraft carrier. After that, impressing a panel of Final Table judges at a cooking competition for his chance at a portion of a $300,000 total prize purse must be a piece of cake.
Well, in Aptakin's case, it was a piece of FISH as he won $10,000 and the title of World Seafood Champion thanks to his dish of Brown Butter Duck Fat Seared Halibut, Lobster Tom Yum Broth, Lobster Truffle Duck Fat Mashed Potatoes, Stone Crab Ceviche Salsa and Lobster Chili oil. In fact, this dish came within a quarter of a point on the 1-100 scale of winning the $100,000 grand prize at the WFC.
The World Food Championships are unique as the largest competition in Food Sports and also as the only event where professional chefs compete against home cooks and avid weekend warriors who participate in contests across the country and around the world. At the WFC, winners are selected tournament-style in nine food categories: Barbecue, Chili, Burger, Sandwich, Recipe, Bacon, Dessert, Seafood and a new category for 2016, Steak. After qualifying through regional and international competitions or online recipe contests, WFC participants cook two dishes for the chance to move on to the Top Ten round in their category, and ultimately the $10,000 prize for winning the bragging rights as champion of their division. Dishes are evaluated by trained judges using the WFC's proprietary EAT (Execution/Appearance/Taste) criteria to determine who will advance to the Final Table to compete against the winners of the other eight categories.
Aptakin earned his trip to Orange Beach by winning two separate qualifying contests, the Hawaii Foods Manufacturers Award and 1st place in the Food Network's catering challenge. He then sailed through three rounds of qualifying to make it to the Final Table. His first task was to create his take on a classic Shrimp Scampi, followed by a chef's choice dish for the judges. Once reaching the Top Ten, Aptakin embraced the required theme of Creole cuisine to win his category handily.
When he discovered he was headed to the finals, Aptakin was extremely excited. "It felt amazing as if I floated on air. The hard work and passion and teamwork all paid off for being driven and persevering to the top, never giving up." But the biggest challenge still lay ahead as he would now face off against the winners of the other eight World Food Championships categories: Barbecue, Chili, Burger, Sandwich, Recipe, Bacon, Dessert and Steak
When it came time to create his pièce de résistance, Aptakin reached deep into his bag of culinary tricks. "I wanted to create the ultimate seafood dish that would feature umami, sweet, salty, savory, spicy and crunchy, with amazing presentation colors, textures and contrasts that would make your left and right toe curl. The perfect indulgence."
He must have found what he was looking for, because the panel of professional culinarians loved his dish. Even if he fell just short of winning the biggest prize in Food Sport, Aptakin did go home with $15,000 and some great memories. When asked what he will remember most, the chef replied, "the friendships and teamwork of everyone willing to help everyone (farmers, seafood, competitors, locals) and how the hospitality of Orange Beach, Alabama is like Hawaii with an extended attitude of Aloha."
« Back to News