WFC Announces Sweet New Partner for Chocolate Infusion
Share:
Posted Aug 29, 2016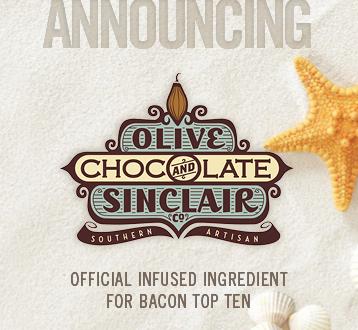 ORANGE BEACH, Ala. (August 29, 2016) – The World Food Championships is announcing the ultimate combination for the Ultimate Food Fight this November: Bacon + Chocolate. Thanks to our new partner, Olive & Sinclair Chocolate, WFC will be featuring artisanal chocolate as an infused ingredient for the first time at its 5th Anniversary in Orange Beach, Alabama.
The Top 10 Competitors in the Bacon category will be challenged (or treated!) to using one of Olive & Sinclair's two most popular confections, the Southern Artisan 67% Chocolate or the Southern Artisan Sea Salt Chocolate. Each contestant will be given a box of the hand-crafted chocolate bars to use in their final dish as WFC crowns its 2016 Bacon World Champion.
The Southern Artisan 67% is made with single-origin beans from Ghana, along with red stone fruit, brown butter, and sorghum molasses, giving it a bold fudgy flavor. The Southern Artisan Sea Salt starts with a 75% cacao bean base and is speckled with flaked sea salt, lending itself to the occasional satisfying crunch and burst of flavor.
"This is definitely one of the Infusions we are most excited about this year," said Mike McCloud, President and CEO of World Food Championships. "Bacon is already one of our most popular categories, and Olive & Sinclair is one of the most sought after treats in the Southeast. So we can't wait to see what our competitors do with these two incredible ingredients."
The Nashville-based chocolate company uses organic, fair trade cacao beans, and pure brown sugar to create their unique candy bars. The chocolate is slow-roasted and ground in small batches, ensuring that every bite has a one-of-a-kind, delicious flavor. The company's unique product line ranges from Mexican Style Chocolate to Salt and Pepper Buttermilk White Chocolate, and even Duck Fat Caramels to bourbon-infused "Muzzle Loaders."
"We're excited to have a Nashville-based company on board with the World Food Championships," added McCloud, as he pointed out that the origin of WFC occurred in Nashville. "We've never had a better line up of quality products and ingredients, and we're glad that it ranges from global brands to artisanal brands like Olive & Sinclair."
The artisanal chocolatiers use a combination of traditional methods, modern European technique, and classic Southern flavors to create a new twist on an old classic. In addition to using pure brown cane sugar for a slower "sweet" warm up in their chocolate, Olive & Sinclair also ages cacao beans in Bourbon Barrels, smokes cacao beans in prized smokehouses, and uses buttermilk to balance the cloying sweet and fattiness of white chocolate.
To learn more about Olive & Sinclair or to order their products, click here.
About Olive & Sinclair
Olive & Sinclair is Tennessee's first & only bean-to-bar chocolate company. Slow Roasted & Stone Ground, O&S was founded in 2007, with full production following in the fall of 2009. O&S takes pride in its bean-to-bar chocolate known as Southern Artisan Chocolate™. This concept began with idea of Stone grinding chocolate, inspired by the method used for stone-ground grits, using melangeurs (stone mills) from the early 1900's and adding only pure cane brown sugar for a robust flavor and slow sweetness.
« Back to News