Hormel Foods Celebrates 125th Anniversary by Giving Back to Chili Competitors
Share:
Posted Aug 24, 2016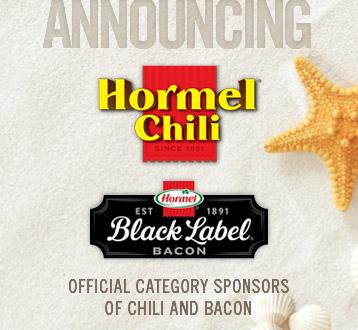 ORANGE BEACH, Ala. (August 24, 2016) – World Food Championships announced today that its 2015 Chili Championship sponsor, Hormel Foods, is returning to the Ultimate Food Fight with an exciting program that will both expand and enhance its role at the event's 5th Anniversary.
In fact, to help "chiliheads" celebrate the 125th anniversary of Hormel Foods, all World Open Chili Competitors will now enjoy a reduced entry fee of just $125 for this year's competition.
"This is a remarkable 'first' for our event," commented Mike McCloud, President and CEO of WFC. "For a major food brand like Hormel® chili to sponsor and subsidize every chili competitor's entry fee is great for the contestants, but it also proves how engaged they want to be in Food Sport."
Turns out that Hormel Foods, which has more than 20 of America's favorite brands, is developing quite an appetite for Food Sport. In addition to its chili brands, it will be bringing the Hormel® Black Label® bacon brand into the food fight by sponsoring the Category for the Bacon World Championships.
"As the No. 1 chili brand in the nation, it is a natural fit for Hormel® chili to support this great event", says Mark E. Beierle, Hormel® chili brand manager. "We are happy to celebrate with chili fans and we're excited to see the creative recipes the competitors will bring to the table."
This means that both Hormel® chili and Hormel® Black Label® bacon will be provided to competitors through the WFC Pantry. Consumers will also get to sample both products through activations and demos from Hormel Foods in the WFC Tasting Village.
In addition to supporting competitors during the event at The Wharf in Orange Beach, Hormel Foods is going to help new Food Champs earn their way into this year's championship. Starting September 5, WFC and Hormel Foods will host an Instagram-based recipe and photo contest to award three more Chili golden tickets. More details are included below.
About Hormel Foods
Hormel Foods Corporation, based in Austin, Minn., is a multinational manufacturer and marketer of consumer-branded food and meat products, many of which are among the best known and trusted in the food industry. Hormel Foods, which leverages its extensive expertise, innovation and high competencies in pork and turkey processing and marketing to bring branded, value-added products to the global marketplace, is celebrating its125th anniversary in 2016. The company is a member of the Standard & Poor's (S&P) 500 Index, S&P 500 Dividend Aristocrats, and was named one of "The 100 Best Corporate Citizens" by Corporate Responsibility Magazine for the eighth year in a row. Hormel Foods also received a perfect score on the 2016 Human Rights Campaign Foundation's Corporate Equality Index, was recognized on the 2016 Best for Vets Employers List by Military Times, and was named one of the 2016 Best Companies for Leaders by Chief Executive magazine. The company enjoys a strong reputation among consumers, retail grocers, foodservice and industrial customers for products highly regarded for quality, taste, nutrition, convenience and value. For more information, visit http://www.hormelfoods.com and http://2015csr.hormelfoods.com/.
About the Hormel Chili Nation Challenge
Calling all chefs and home cooks! WFC and Hormel want you to spice things up in our Hormel Chili Nation Challenge. The Instagram-based contest will start on September 5, and ends September 11 at 11:59pm CDT. To enter, all you have to do is post an original photo on Instagram with your Chili Creation and follow the rules below:
-Hashtag #Hormel125 #ChiliNation
-Tag @WorldFoodChampionships
-Include a Hormel Chili can in the submission photo
-Include a title and short description of your dish
One grand champion will receive paid entry and a $500 travel stipend for WFC 2016. Two runners up will receive a Golden Ticket to compete at the Ultimate Food Fight. And don't forget, Chili Champs, your entry fee is only $125!
« Back to News