WFC Adding "Moe" TV Stars to 2016 Lineup
Share:
Posted Aug 16, 2016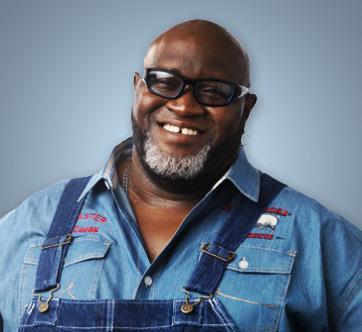 ORANGE BEACH, Ala. – (August 16, 2016) As the World Food Championships announced the return of the "Top 10" in the World Barbecue Championships this November, the Ultimate Food Fight has also started seating some of the industry's best-known pitmasters to be the category's judges.
One of those is Moe Cason, a notable and experienced Food Sport judge who has supported WFC for many years. The celebrity pitmaster has appeared on shows like TLC's "BBQ Pitmasters" and "Destination America BBQ Pitmasters," and will no doubt be a fan favorite at WFC's 5th Anniversary in Orange Beach, Alabama.
"Big Moe" is right at home among competitive cooks. He's completed more than 250 contests in 35 states in less than a decade, taking home numerous Grand and Reserve Grand Championships. He's earned three 180 perfect scores for his chicken, ribs and pork shoulder, with multiple wins in each category as well as KCBS's brisket category.
"This is where the best-of-the-best come to compete for food fame and fortune," said Mike McCloud, CEO of World Food Championships. "So we are thrilled to have Moe Cason joining us again as we set out to determine who deserves the top Pitmaster award in 2016. Experienced judges like Moe, coupled with our double-blind, sanctioned contest, will certainly help us crown a deserving champion."

Cason is a United States Navy veteran who served in both Desert Shield and Desert Storm. He began entering barbeque competitions as a pastime while holding down a fulltime job.

"I'm a self-taught pitmaster, and what initially was a hobby is now a way of life," Cason said. "I am passionate about maintaining the integrity of BBQ by cooking with authenticity, using simple recipes and honoring the history of BBQ."

Another aspect of barbeque Cason is passionate about is the sauce. That's why he makes his own, for which he won Second Place Sauce at the 2012 Jack Daniel's World Championship Invitational, and even offers an original and a raspberry chipotle for sale on his ponderosabbq.com website.

"My sauces are made from scratch with natural and fresh ingredients," he said. "Good enough to use for competitions but made for the everyday backyard cook."

Big Moe is encouraged about the future of barbeque as food sport.

"I see the sport advancing a little more in contests and purse size," he observed. "Competition barbeque has exploded in popularity over the last 15 years. I do see more businesses stepping it up as well. The thing about barbeque, it has legs. It's been around from the early days of this country."

Cason said he believes barbeque is a simple food with humble beginnings, but an excellent barbeque can "rise up" to be Grand Champion over any category of food, just like it did last year at the World Food Championships when the Smoking Hills took home the Final Table honors and a $100,000 grand prize.
"BBQ has been very good to me and many others," Cason said. "It will continue to provide many wonderful opportunities to those who stay true to BBQ and themselves."
« Back to News