Bubba Burgers Food Champ Online Recipe Contest Winners Announced!
Share:
Posted Jun 24, 2016

The
Bubba Burger
"Bring Your Burger to the Beach" Online Recipe Contest brought in some of the meatiest recipes yet. We thank our friends at Bubba Burger for partnering with us for this contest.
After looking at dozens of entries, the judges separately tallied up and scored their favorite recipes. There was a clear winner among the culinary experts, as they BOTH chose the "Back to Black Burger" by Ellen Verdugo of Gloucester, Massachusetts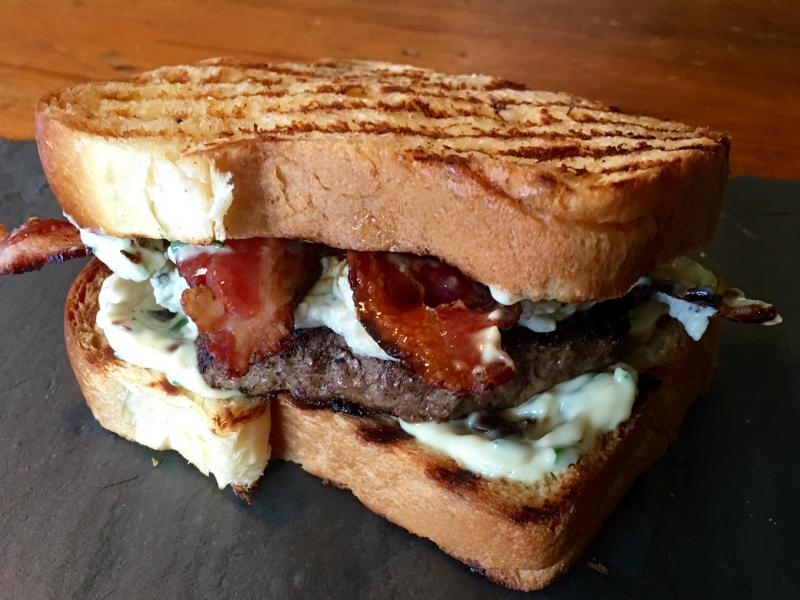 as the First Place winner. The winning recipe featured a black-peppered bleu cheese spread and smoky black forest bacon on an angus burger rubbed with a clove of black garlic and housed between grilled Texas toast. For her winning entry, Ellen nabs a registration-paid Golden Ticket slot in the Burger category at the 2016 World Food Championships in Orange Beach, Alabama this November, plus a $500 travel stipend.
Meanwhile, these four entries earned their creators Golden Ticket invitations to compete:
Second Place: "California Cowboy Burgers with Quick Kale Kimchi and Toasted Walnut-Cranberry Goat Cheese," submitted by Devon Delaney of Westport, Connecticut.
Third Place: "Bubba Greek-Fried Green Tomato-BLT Burger," submitted by Greg Buerger of Peoria, Arizona.
Fourth Place: "Sweet Balsamic Glaze Caprese Burger with Fried Mozzarella, Heirloom Tomato, Sweet Basil, and Pesto Mayo," submitted by Kisha Washington of Upper Marlboro, Maryland.
Fifth Place: "Summer in the South Bubba Burgers," submitted by Kellie White of Valley Park, Missouri.
Congratulations to all our winners, and thanks to everyone who entered! Alabama Residents, submit your best seafood recipe to the
Gulf Shores Orange Beach Tourism Online Recipe Contest
from June 24 to July 4 at 11:59pm! And remember, more Food Champ Recipe Contests will take place throughout the summer, so keep your eyes peeled for your next chance to enter. You could take your place alongside the best #FoodSport competitors in the world this November!
« Back to News