Celebrated TV Chef Brings "A Party in Your Mouth" to WFC's Final Table
Share:
Posted Jun 3, 2016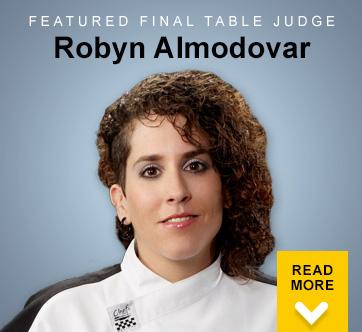 Robyn Almodovar, owner of an award-winning food truck, "Palate Party", has been selected to serve as a Final Table judge for the 2016 World Food Championships, which is celebrating its 5th anniversary in Orange Beach in November.

Almodovar has competed in many television food competition shows, beginning her TV career with her appearance on FOX's Hell's Kitchen in Season 10. She will join Chris Lilly, a veteran pitmaster and executive chef of Big Bob Gibson Bar-B-Que, and three other food professionals at the Final Table on November 15 at The Wharf, the event's new host.
"Robyn knows all about cooking under pressure, thanks to her experience in the food truck industry and her many TV food victories. She'll bring a unique perspective and expertise to the Final Table, and we are so excited to have her as a judge," said Mike McCloud, CEO of World Food Championships.
A Staten Island native and current Florida resident, Almodovar has a unique culinary background with both a Puerto Rican and Italian influence. Almodovar graduated from the Le Cordon Blue College of Culinary Arts in 2005, and began her career as a banquet cook at The Hyatt Regency Pier 66 in Fort Lauderdale, Florida. Almodovar quickly worked her way through chef positions in restaurants, hotels and even on yachts. After working at many reputable restaurants in South Florida, she took a position as the Executive Sous Chef at the Royal Palm Hotel, during which time she was casted for Hell's Kitchen.
"Palate Party," a food truck using fresh, locally sourced ingredients, became the first female-owned, non-dessert food truck in South Florida when Almodovar opened the business in 2011. The food truck even has a custom stage built on top for dancing and musical performances, and in 2013 "Palate Party" was named the Best Food Truck in Miami.
In 2014, Almodovar continued her success as a TV celebrity chef with her appearance as a guest judge on Food Truck Face Off on Food Network. Almodovar has also competed and won on both CHOPPED and Cut Throat Kitchen in 2015, and made appearances on Camp Cut Throat and CHOPPED Impossible.
To stay in the food champ chatter, follow us on Facebook, Twitter and Instagram.
To learn more about Almondovar, head over to her website at www.palateparty.com.
« Back to News