WFC Announces its Hottest International Qualifier
Share:
Posted Jun 1, 2016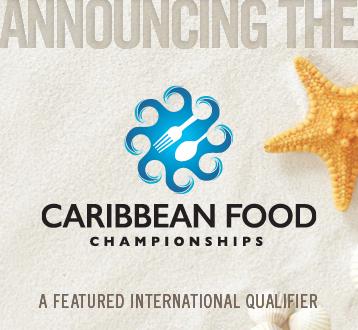 The 2016 World Food Championships is adding even more salt to its Ultimate Food Fight for its 5th anniversary. The Caribbean Food Championships, the latest International Qualifier for WFC, was announced today and will bring the best tropical flavors to Orange Beach, Alabama in 2016.
A series of Food Sport events throughout the Caribbean islands, this new International Qualifier represents a three-year agreement between Smoking Hot Ventures and MMA Creative, the parent company of WFC. The action will begin in September in San Juan, Puerto Rico, and serves as the 25th Preferred Qualifier and 2nd International Qualifier for the 2016 WFC.
The Caribbean Food Championships will determine the top five winners to represent the Caribbean Islands at the 2016 WFC. The aspiring chefs will compete for spots in the following categories: Recipe, Dessert, Sandwich, Chili and Bacon. In addition to local prizes and bragging rights, each of the winners will earn a Golden Ticket into the WFC.
"We are thrilled to continue our expansion of the World Food Championships to include talented and decorated chefs from the Caribbean," said Mike McCloud, CEO of World Food Championships. "We had 17 countries represented last year, and we believe these types of official qualifiers will continue to make WFC a truly global event."
"Smoking Hot Ventures is excited for the opportunity to be a part of the largest Food Sport event in the world, and also allow culinary artisans from the Caribbean a chance to earn their way to this prestigious culinary battle," said Robert Alexis Garcia, co-owner of Smoking Hot Ventures.
Specific info and dates regarding the Caribbean Food Championships will be announced soon.
« Back to News