VETERAN PITMASTER CHRIS LILLY NAMED FIRST FINAL TABLE JUDGE FOR WFC 2016
Share:
Posted May 20, 2016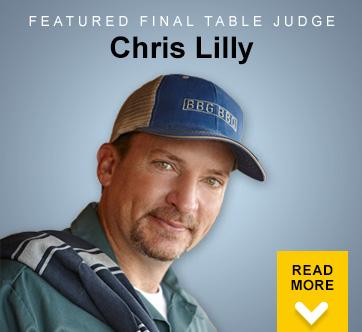 The first piece of the 2016 World Food Championships Final Table puzzle has been put into place. Chris Lilly, vice president, executive chef and partner of Big Bob Gibson Bar-B-Q, has been named as the first judge for the finale of Food Sport's Ultimate Food Fight.
Lilly joins a team of five food professionals with discerning palates that will serve as the final arbiters for this year's WFC. The Final Table competition will take place Tuesday, November 15 at The Wharf in Orange Beach, Alabama.
"Chris Lilly has been in the heat of competition cooking for years as the head chef for Big Bob Gibson's championship barbecue team, as well as the creator of tremendous menus for events around the globe," said Mike McCloud, CEO of World Food Championships. "His expertise as a competitor, food ambassador and expert chef extends far beyond barbecue, making him a perfect judge for the wide variety of dishes prepared at The Final Table."
Chris Lilly emerged on the barbecue scene in 1992 when he began working for the world famous Big Bob Gibson Bar-B-Q restaurant in Decatur, Ala. Recognized by The Wall Street Journal as having the best pork barbecue in the country and named the "Best Barbecue Restaurant in Alabama" by the Birmingham News.
Lilly is also head chef of the award-winning Big Bob Gibson Bar-B-Q Competition Cooking Team, and the winner of 15 World BBQ Championships in several barbecue categories and four Memphis in May Grand Championships (2000, 2003, 2011, and 2014), as well as winning the American Royal International Invitational Cook-Off.
Widely recognized as one of the top pitmasters in his field, Lilly has been a guest chef for 14 years running at the Food Network's South Beach Wine and Food Festival, has served twice as guest chef at the James Beard Foundation and the American Institute of Wine and Food, was a presenter at the Low-Country and Caribbean Food Conference at Johnson and Wales University, and recognized as Celebrated Chef by the National Pork Board. In 2011, Lilly was an instructor for Pork Summit at Culinary Institute of America in Napa Valley.
« Back to News