HUMM SYSTEMS' ADVANCES FOOD SPORT JUDGING AS WFC'S TECHNOLOGY PARTNER
Share:
Posted May 17, 2016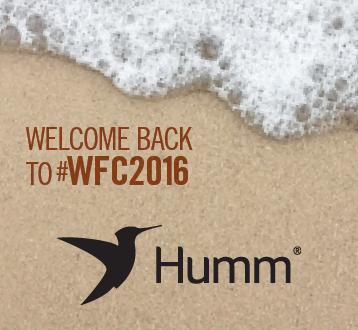 ORANGE BEACH, Ala. (May 17, 2016) – Judging Food Sport's largest competition involves three primary elements – sight, smell and, obviously, taste. At the 2015 World Food Championships, Humm Systems brought an additional element into that judging process – touch. As in "touchscreens."
As the official technology sponsor of the WFC, Humm developed an Android-based tablet application that fed judges descriptions of competitor dishes during tasting sessions, allowing judges to compare those descriptions to the dishes presented.
Humm is extending that WFC technology partnership into 2016, because real-time feedback is the core of Humm's business model for restaurant and healthcare organizations.
It was a leap forward in the event's judging process, which uses the EAT Methodology – focusing on the competitor's Execution of the dish, the overall Appearance, and ultimately, Taste. The app rounded out the Execution side of judging, providing a succinct view of what competitors were trying to accomplish.
"Just as the EAT Methodology is unique in the world of food competition judging, what Humm Systems delivers to WFC in terms of judging and customer-facing information is also unique," said Mike McCloud, CEO of World Food Championships. "They've provided a crucial piece to the judging puzzle at WFC, and we're excited to have them back on board in 2016."
The judging app further enhanced Humm Systems' partnership with WFC, having provided scoring displays for the first time in 2014. At the 2015 event, Humm also equipped the Humm Hub with flat-screen displays for teams and spectators to view dishes, scores and competitor portraits throughout the competition rounds.
"In 2015, we were able to focus on elevating the judge's experience and also collecting on-site event feedback," said Pamela Crosier, Humm's Product and Alliances Director. "Everyone loved seeing their head shots and dishes up on the big screens, and it helped build suspense by teasing one round of scores before the big winner announcements later in the night."
About Humm Systems (www.hummsystems.com)
Every day, hundreds of companies rely on Humm to better understand and improve their customer experience in real time. Founded in 2012, Humm's on-premise feedback platform helps restaurants and healthcare providers quickly collect and react to customer feedback before they ever walk out the door. Humm is used by more than 300 hospitality and healthcare brands, collecting more than 850,000 pieces of feedback each month in the U.S., Canada and the U.K.
About the World Food Championships
The World Food Championships (www.worldfoodchampionships.com) features hundreds of competitors seeking food fame and fortune. The fifth annual event, scheduled for Nov. 9-15, 2016 at The Wharf in Orange Beach, Alabama, invites the champions from the biggest and best food competitions around the world into a single high-stakes culinary showdown for hundreds of thousands of dollars in cash and prizes. Follow WFC on Twitter (@WorldFoodChamp), Instagram (@WorldFoodChampionships) and Facebook (www.facebook.com/worldfoodchampionships).
« Back to News