WFC, JUST A PINCH TEAM AGAIN FOR ENTRY PARTNERSHIP FOR 2016 CHAMPIONSHIPS
Share:
Posted May 10, 2016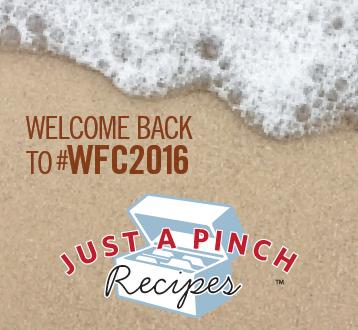 ORANGE BEACH, Ala. (May 10, 2016) – The development of a great recipe doesn't usually happen in the heat of a busy restaurant kitchen, or even under the pressure cooker of the world's biggest Food Sport event.
They most frequently happen at home, through trial and error, through testing and ideation and tons of feedback from family and friends.
That's what Just A Pinch (www.justapinch.com) – the premier online destination for home cooks to share time-honored and tradition-tested recipes and tips – celebrates every day. And for the fifth year in a row, Just A Pinch is teaming with World Food Championships to bring some of those recipes to life at Food Sport's largest competition stage.
Just A Pinch will serve as an online gateway partner for the World Food Championships, gathering 16 winners from their online recipe contest happening NOW at www.justapinch.com/contest/world-food-championships-2016 to compete at WFC 2016 in Orange Beach, Alabama.
Team Just A Pinch will be composed of winners drawn from the following categories: Bacon, Burger, Chili, Dessert, Recipe, Seafood, Steak and Sandwich. Those winners will earn complimentary WFC entrance fees, as well as induction into Just A Pinch's Honorary Kitchen Crew. (The winners will be responsible for their own travel and lodging at the Championships.)
"We look forward to the World Food Championships each year," said Dan Hammond, founder and CEO of JustAPinch.com. "Just A Pinch spotlights the home cook and nothing celebrates them more than to help them earn their spot at the World Food Championships. The recipes coming out of home cooks' kitchens are spectacular. Our home cooks can - and have - beat professional chefs. It's an honor to watch them."
Champions have emerged from entering the Just A Pinch WFC online recipe contest. 2015's World Seafood Champion, Cindy Taffel, took culinary inspiration from a vacation trip to Alaska and entered a seafood chowder recipe into the 2015 Just A Pinch contest. She won a Golden Ticket via the online contest, and then blazed through the live Seafood competition at WFC. Taffel led wire-to-wire through the opening round and Top 10 competitions, earning $10,000 and a spot at WFC's ultimate event, The Final Table.
"One of the great things we see each year at WFC is the communities and friendships that grow out of the competition," said Mike McCloud, CEO of World Food Championships. "Just A Pinch does an amazing job year-round of building, supporting and encouraging the home cook community, and it's an honor to watch that community come to life competing at WFC. It's also fun to see them take the stage as a WFC Champion!"
Entries for the 2016 Just A Pinch WFC online recipe contest will be accepted until July 1 at www.justapinch.com/contest/world-food-championships-2016.
« Back to News