Bull Outdoor Products Returns As Official Grill Partner For World Food Championships
Share:
Posted Mar 29, 2016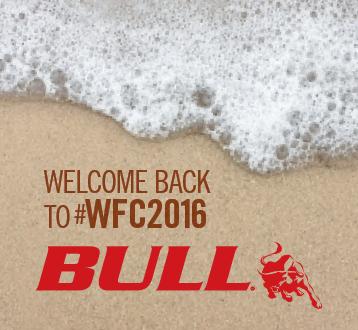 ORANGE BEACH, Ala. – Bull Outdoor Products, Inc., a longtime partner and Official Grill of the World Food Championships, returns to outfit Food Sport's largest playing field this year with some of the most advanced and reliable outdoor grills in the world.
Now celebrating its 5th Anniversary, WFC will be held Nov. 8-15 at The Wharf, a resort destination with a full-service marina, retail, dining and entertainment options anchored by a multi-use event center and a 10,000-seat amphitheater. The majority of WFC's food fights occur in Kenmore Kitchen Arena, the largest outdoor kitchen in the world, measuring a full city block with Kenmore brand equipment and $100,000 worth of professional grills from Bull Outdoor Products.
Competitors at WFC 2016 this year will again have Bull's premium Steer three-burner grills as part of their arsenal. WFC will also feature a separate "Bull Experience" area, where two-time World Burger Champion Wade Fortin will share championship recipes and food demos. A long-time member of "Team Bull" on the competition side, Fortin has joined the company in an official capacity, working on consumer, retail and distributor marketing.
"The World Food Championships always gives us a chance to test and demonstrate our products at the highest levels of performance," said Mark Nureddine, owner of Bull Outdoor Products, headquartered in Lodi, California. "Each year, WFC brings the heat in a bigger and better way, and we're excited to see our products in action on this global platform."
A key component of Bull's products is their proprietary Reli-A-BULL technology, developed in conjunction with California Polytechnic to eliminate uneven heating and enhance outdoor cooking experiences. That consistent, even heat from the Bull products is mostly seen in WFC's Burger and Steak competitions, but it can also be used in many of the other kitchen categories like Bacon, Chili, Dessert, Recipe, Seafood and Sandwich.
"Bull's products are a vital part of the WFC competition arena," said Mike McCloud, CEO of World Food Championships. "Our Food Sport athletes have found innovative ways of using Bull grills across all the category competitions every year, and the exceptional on-site service we get from Bull is crucial for the six jam-packed days of competition cooking."
About Bull Outdoor Products
Bull Outdoor Products Inc. is a leading innovator and manufacturer of quality branded products developed and designed for the outdoor living marketplace. Its products are sold to customers in specialty retail, hearth, hardware, appliance, building materials and the building trade throughout the US, Canada, Europe, South and Central America. Bull is committed to providing the most complete line of premium products at the best value in the industry. Specific product categories include grills, cart grills, grilling accessories, rubs, sauces, fire features, outdoor kitchens and their components. The company was founded in 1993 and is currently headquartered in Lodi, California with two other factories and dealer showrooms located in Athens, Tennessee and Rialto, California. http://www.bullbbq.com
About the World Food Championships
The World Food Championships (www.worldfoodchampionships.com) features hundreds of competitors seeking food fame and fortune. The fifth annual event, scheduled for Nov. 9-15, 2016 at The Wharf in Orange Beach, Alabama, invites the champions from the biggest and best food competitions around the world into a single high-stakes culinary showdown for $350,000 in cash and prizes. Follow WFC on Twitter (@WorldFoodChamp), Instagram (@WorldFoodChampionships) and Facebook (@WorldFoodChampionships).
« Back to News