Time Crunch No Factor For 'High Steaks Challenge' Winner
Share:
Posted Mar 17, 2016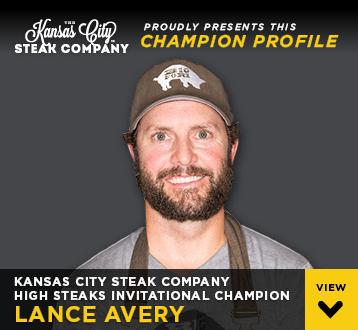 NASHVILLE, Tenn. – In so many of life's opportunities, the maxim "last in...first out" applies.
For Chicago-based chef Lance Avery, his experience with, the Kansas City Steak Company's "High Steaks Invitational" competition at the 2015 World Food Championships went like this: "last in...first place."
Avery, a longtime competition chef and principal behind Big Fork Brands food company, was a contestant in WFC's Burger competition, but received a last-minute call to compete in the High Steaks Invitational, which was scheduled to begin an hour after the Burger competition final turn-in.
Avery scrambled to a nearby grocery store to gather ingredients, and came back to WFC's Kenmore Kitchen Arena – the world's largest outdoor competition cooking venue – right as the new contest was beginning.
He admits the crunched time frame gave him no time to overthink the competition, and instead went simple with the process, having to cook six samples of two different steak forms – a bone-in strip and a tenderloin – in less than an hour.
Avery and his team went to work quickly. "With the strip, I threw it on the Bull grill on high, just to get a nice char and caramelization on the outside, and it cooked to a perfect medium rare," he said. "I then put it in a hotel pan, tented it with aluminum foil and used a 'smoke gun' with hickory and applewood pellets to give it a second wave of flavor.
"The crown filet I rubbed with salt, pepper and portobello powder, then pan-seared in butter on the Kenmore cooktop," he continues. "The steaks were so thick, they cooked in the butter for six or seven minutes a side, and then I served them with a bacon jam and more mushrooms on the side."
The seasoned competition cook and food entrepreneur – Esquire magazine named Big Fork Brands' bacon sausage products its 2014 "Best New Food In America" – didn't have a chance to work with Kansas City Steak Company's product prior to the competition, so once the High Steaks Challenge was over, he had a chance to slow down and sample the steaks. He came away extremely impressed.
"After the competition, I was able to sit and actually eat the steak. It was not only a delightful thing to cook, I was impressed at how all the flavors came together with the steak as the base," Avery said. "I'm an Iowa boy; I know my steaks."
The High Steaks Invitational was the culmination of Kansas City Steak Company's presence at World Food Championships, an event in its fourth year and first in Central Florida. The WFC attracted more than 1,000 competitors from across the globe for its nine primary categories, plus the featured competitions like the High Steaks Challenge.
That concentration of elite cooking teams and food fans made the decision to become a signature sponsor for WFC 2015 incredibly easy, said Marcy Johnson, director of brand marketing for The Kansas City Steak Company.
"In one place in one short week, we had everyone's attention, the food writers, the food innovators and the brands that make cooking our steaks easy with Bull and Kenmore," Johnson said. "And we walked away with hundreds of chefs and competitive home cooks enhancing our recipe juices, inviting us to be part of their blog discussions and we know that we ignited new brand fans and ambassadors."
Include the competitors in the High Steaks Invitational among those new fans, as all 10 invited cooks expertly used the quality base of The Kansas City Steak Company's products to build their flavor-filled entries. "There were so many innovative and creative recipes that judging proved difficult," said World Food Championships CEO Mike McCloud. "When food athletes are given a top-of-the-line foundation to build a recipe with, all sorts of amazing results cross the turn-in finish line."
« Back to News