Levity and Intensity Find Balance in Reigning World Seafood Champion
Share:
Posted Mar 1, 2016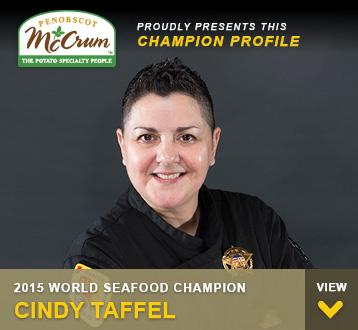 NASHVILLE – Some in food sport might think the reigning World Seafood Champ from 2015 was born to be a competitor. She is, after all, the sister of a multi-award winning contest cook nicknamed the "Bacon Babe".
But those who really know Cindy Taffel understand she spent much of her career caring for others, not just competing against them – as a Physical Therapist in Pompano Beach, Florida, and later as a First Responder/Paramedic for the Broward County Fire and Rescue. Today, she is a Fire Inspector with the Sheriff's Office.
Whether it was her work in the fire stations of Florida, the influence of her successful food champ sister or the love of cooking she shares with colleagues, friends and family, Taffel found herself qualifying for the World Food Championships just weeks before the international contest.
That's when she entered the online recipe contest of Just A Pinch, the go-to blogspot for extraordinary home cooks and submitted "Kantishna Delishna Southern Seafood Chowder", which was inspired by a vacation to Alaska.
The Florida resident turned to the aquaculture of her home state to capture seafood inspiration that would define this recipe. Taffel incorporated Penobscot McCrumb Potato Skins into her pre-qualifying recipe, which would serve her well at the World Food Championships where those potato skins would be a required ingredient in the World Seafood Championship Top 10 Round.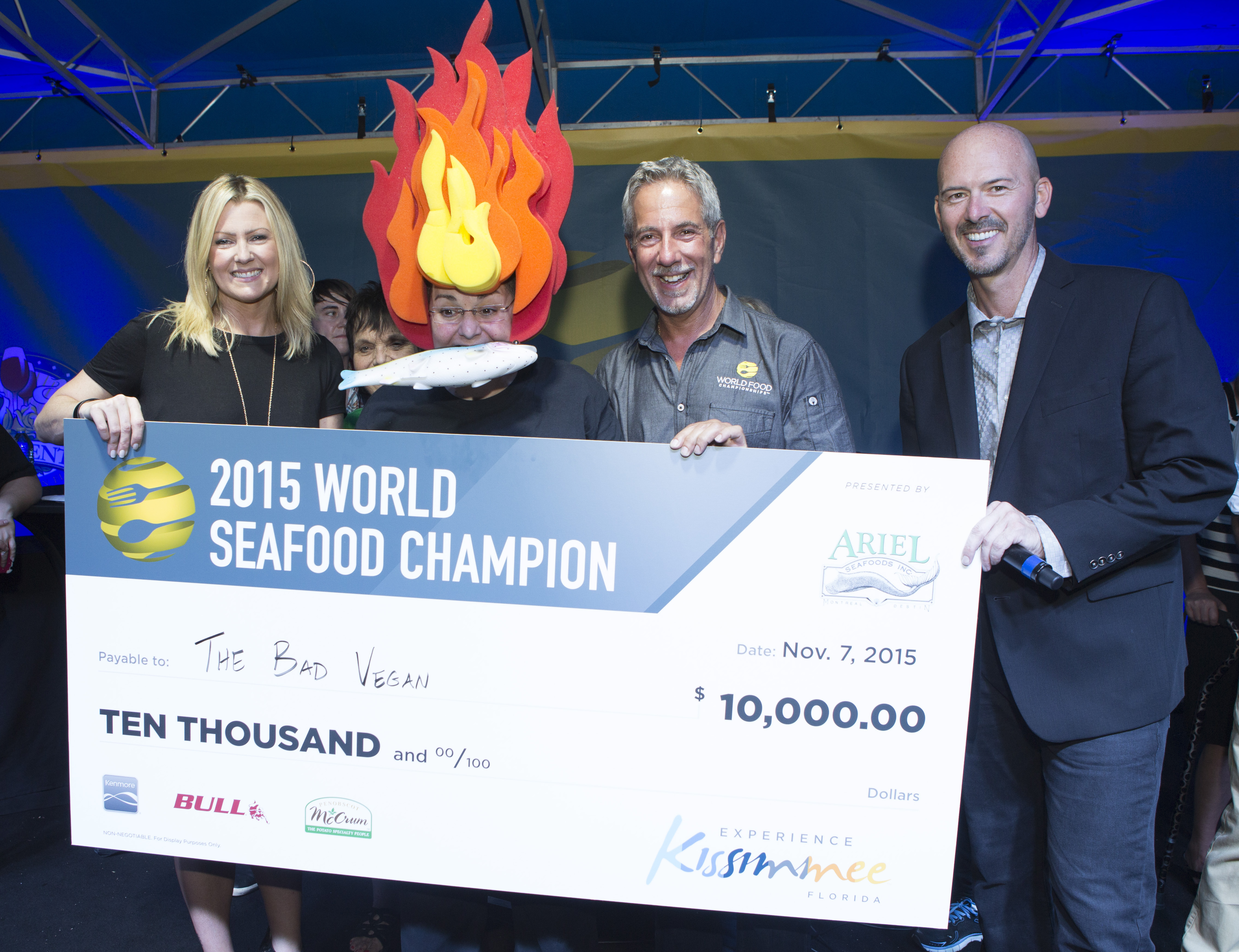 Registering as The Bad Vegan is the first hint that Taffel would bring spirited fun to the Kenmore Kitchen Arena. Her winning strategy included "dressing the part" with fish themed costumes for her competitive category. She also attended the award ceremony donned in a giant yellow and red flame headdress featuring an eight inch rubber fish diving through the flames. Somehow the rubber fish ended up in her mouth for the official World Food Championships photo.
But make no mistake, Taffel is no joke in the Seafood Category, and her recipes hit the sweet spot in the blind tasting Opening Rounds of judges.
As it turns out, the Opening Rounds of the World Food Championships called for broth in the first structured turn-in. Taffel's Musselsbucca, a bacon smoked mussel in a lemon fennel broth, garnered her a fourth place, but she was unstoppable when left to her own creative juices in the second turn-in, the Signature dish. Taffel swept the judge's scoring with her Macadamia Crusted Sea Bass with a Pineapple Buerre Blanc in which she included Snow Peas, an infused Whitefish Caviar and a Parsley Oil Drizzle. She secured her position as the person to beat in the Top 10 second round where she would compete for the top prize of $10,000.
The Seafood category imposed specific recipe requirements on the Top 10 Round. The contenders had to incorporate Penobscot McCrumb Potato Skins AND their Potato Pulp. This is where Taffel's pre-qualifying experience came in handy. She successfully infused those products into her Chowder recipe for Just A Pinch.
After an alteration to the Signature Dish recipe (Macadamia Crusted Sea Bass with Pineapple Buerre Blanc), adding the required blend of potatoes and she was ready to start her ovens! Later that night, headdress in place, Cindy Taffel was holding a giant $10,000 check made to The Bad Vegan and the chance to represent Seafood against eight other category winners at the Final Table.
Although Taffel did not win the $100,000 Final Table top award, she knows there was more than luck on her side. To get to the World Food Championships she initiated a Gofundme.com crowd funding page to help with food and hotel expenses. Friends and anonymous supporters chipped in to raise $900 to help her quest, and there was no shortage of encouragement from friends and the close-knit family that loves to cook together.
Taffel is exuberant about her win. She's learned that it is important to celebrate milestones and the happy things in life. In her work in fire and rescue, outcomes are not always the happy ones. And, as a survivor of two battles with ovarian cancer, she is quick to find ways to share the goofy things in life, to celebrate the happy moments and to search out the best places to have fun.
« Back to News