New World Burger Champion Proves Persistence Is Key In Food Sport
Share:
Posted Feb 25, 2016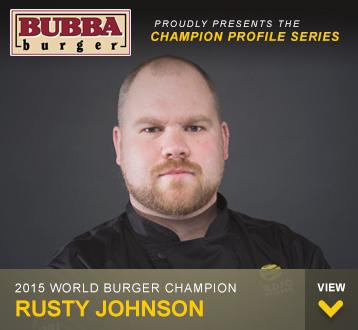 NASHVILLE, Tenn. – The signs of success were obvious as Rusty Johnson arrived at the airport, a five-foot-long check for $10,000 in hand, and a smaller $3,000 prize in his pocket, from the World Food Championships this past November.
For this Burger Champ, the third time truly was a charm. Johnson competed twice before, in 2013 as a Barbecue competitor and 2014 as a Burger competitor. This year, Canadian competitors had only one chance to qualify for the food categories outside of Barbecue – at the Canadian Food Championships, a WFC international qualifier held in July in Edmonton, Alberta.
Although Johnson had already qualified in Western Canada as a 2015 Barbecue competitor, he packed up his supplies and made the trip to Edmonton, where he won the Burger competition and become part of Team Canada at the World Food Championships for the third time.
Competing steadily over the past five years, the British Columbia Canadian admitted that he saw Food Sport was taking off about six years ago as he starting watching TV shows like "Pitmasters". The idea of the competitive arena drew him in.
It was the purchase of a smoker and the discovery that he made "really good" BBQ that led him to his very first competition in Oregon, where he captured first place. The Rusty BBQ brand was born, and Johnson was officially hooked.
Johnson does everything full throttle, and jumping into the competitive arena was no exception. While he may have honed his skills in the first two years of the competition, he readily admits, "the last three years have been intense."
There is little doubt that Johnson's focus has paid off. For example, he's picked up a sponsorship from Bull Outdoor Products™ – the official grill of the World Food Championships. With their support, the equipment traveling with Johnson to his BBQ and Burger competitions has been seriously upgraded.
The World Food Championships' Burger competition divided the Opening Round into two separate turn-Ins. The first, the Structured Build, required competitors to use Bubba Burgers™, the category sponsor, as the building block for a Patty Melt. The Structured Build saw the entire field of 47 competitors pull from their respective recipe arsenals to find creative ways to incorporate the pre-formed patties.
Johnson's Smokey Pimento Cheese and Onion Confit Patty Melt was a smoked Applewood cheddar cheese with jalapeno jack cheese melted onto the Bubba Burger patty, then stuffed with bacon and topped with jalapeno, onion and garlic confit. All this was served on a marbled rye toast. The Patty Melt placed him safely in the Top 10.
All Johnson had to do with his Signature Burger was to stay in a Top 10 position. He went with a Truffled Onion Jam and Fried Goat Cheese Burger. The ground beef/bacon burger was topped with a truffle aioli, his secret onion jam and deep fried honey dipped goat cheese and spinach all served on a ciabatta bun. The combined scores from the Opening Round (Structured and Signature) ranked him in squarely in second place.
Then came the Top 10 challenge: Only one turn-in, and citrus was a required ingredient. No problem for Johnson.
"I love cooking and I love to show what I can do," said Johnson, by day a network technician. "Nothing in this world feels better than when you put EVERYTHING you have into something, your heart and soul, and are rewarded for your hard work in the end."
Indeed, Johnson went all in and his Porchetta Burger was born – a ground short rib patty topped with provolone cheese with a slow-cooked lemon porchetta pork belly and cracklings topped with a lemon gremolata. The Burger also included a grilled grape tomato and goat cheese bruschetta with lemon, caper and red chili and garlic aioli.
The Porchetta was a runaway hit in the Top 10 category where he swept past the other nine contenders and earned his "really really big" check — $10,000 as the new reigning World Burger Champion. It also advanced him to the Final Table to represent Burger against the other eight food category winners.
The Final Table's $100,000 grand prize upped the competition level across the board. Johnson's go-to recipe was Fried Goats Cheese and Truffle. His burger was made of ground short rib with a truffle aioli and his secret recipe onion jam with spicy goats cheese aged with cheddar, sauteed in spinach, and deep fried in honey and red chili. The recipe outscored six other food Champs to come in at third place and earn Johnson another $3,000.
The World Burger Champion's winnings will get him to the next competition, and he's found that no amount of backyard trials will replace what he has learned in competition arenas.
"You gotta practice and gotta be in the moment," he said. "It's not just about how good you are in your own backyard. In competition, you are cooking meat you didn't pick, on equipment you don't know, even sourcing food in a different market."
Johnson is quick to tell you that all of the recipes used in competition at World Food Championships have now been "retired," although he is delighted to share recipes and is quick to follow up with social media inquiries with anyone trying their hand at the recipe at home. He urges folks to catch up with him on his social media accounts @Rustys_bbq with questions and to find his award-winning recipes on the site.
Johnson, a husband and father of two young children, has become a very serious food athlete: "Luck is not in the equation anymore," Johnson said. "I know what I'm doing. It's learning from doing things wrong as much as doing it right. I do this purely for the competition and to show that I have what it takes to be the best."
« Back to News