COMPETITOR REGISTRATION NOW OPEN FOR WFC 2016
Share:
Posted Feb 1, 2016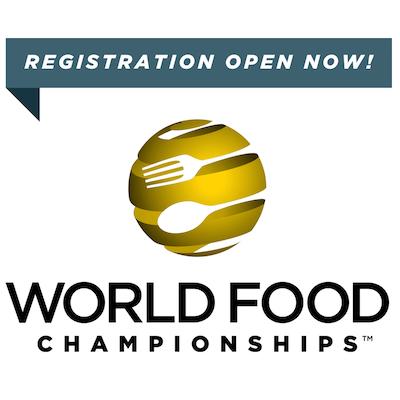 NASHVILLE, Tenn. (Feb. 1, 2016) – Registration for the 2016 World Food Championships is now open at www.worldfoodchampionships.com with more than 175 competitors immediately eligible to secure these early-bird spots on an upgraded online portal.
Those competitors who are eligible now include winners from automatic qualifiers that took place after November 2015. Cheftestants who placed in the Top 10 of any category at WFC2015 are also eligible to register now.
Eligible competitors can register NOW by visiting this link.
Additionally, there will once again be 50 "open" spots for pro BBQ teams who want to compete in the BBQ category, which for the first time will be located in the same competition area as Kenmore Kitchen Arena.
For a full list of the 2016 Automatic Qualifiers, check out this .pdf file. The bulk of the 2016 Automatic Qualifier are still to come.
Please note: Top 10 finishers from the 2015 Pasta championship, which has been replaced by Steak for 2016, can use their guaranteed spot to compete in one of the following categories: Bacon, Barbecue, Burger, Chili, Dessert, Recipe, Seafood, Steak or Sandwich. Registration for those spots started today, as well.
Don't delay: regardless of your qualifying credentials, WFC competitions have a limited number of slots so any category could fill before you're registered. Registering now ensures your spot to compete in WFC's limited field competitions.

Early registration also secures priority status for each competitor, ensuring you seamless communication, news and notes about the 2016 event, which is scheduled for November 9-15. The host city and venue for WFC 2016 will be announced this Friday, Feb. 5.
We are excited to announce that the 2016 registration process has been streamlined. New Cheftestants who have qualified for WFC 2016 can go to www.worldfoodchampionships.com and click on "Competitor Registration" at the very top of the page.
From there, a drop-down menu highlights the Category competitions and events through which qualifying has occurred. After submitting that information, competitors will be prompted to create a profile for the WFC website (including team name!), complete a quick survey, and submit their payment information. All major credit cards are accepted.
Veteran Cheftestants from 2015 who qualify for this year's competition can log in to the WFC website with their email/password combinations from last year; these profiles have carried over onto the 2016 site.
Whether you are a returning competitor or a new one, we encourage you to fill out the competitor profile completely. We expect increased traditional, TV and social media attention on WFC this year, and want to be able to tell as many great stories as possible. Completed competitor profiles help with these opportunities.
Any questions about registration can be directed to registration@worldfoodchampionships.com.
« Back to News