WFC NAMES OFFICIAL 2016 COMPETITION CATEGORIES
Share:
Posted Dec 30, 2015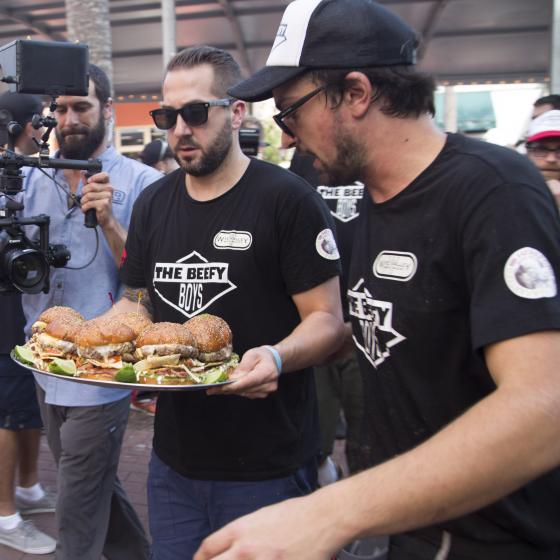 NASHVILLE, Tenn. (Dec. 30, 2015) – The competition committee for the World Food Championships, the largest Food Sport competition in the world, has announced its official competition categories for the 2016 event.
Eight categories – Bacon, Barbecue, Burger, Chili, Dessert, Recipe, Sandwich and Seafood – will again have their World Champions determined at WFC, which celebrates its fifth anniversary in 2016. A new category – the World Invitational Steak Championship – will debut at WFC 2016, the dates for which will be announced Friday, Jan. 8.
"Our competitors, partners and sponsors have been clamoring for a Steak competition for some time now, and with the success of the 'High Steaks Invitational' ancillary competition we staged at WFC 2015, the time was right to add it to the mix," said Mike McCloud, CEO of World Food Championships. "Combined with eight of the iconic categories we've produced before, we believe these nine categories will make for a very exciting Food Sport event in 2016."
The official 2016 World Food Championships categories include:

Bacon World Championship

World Barbecue Championship

World Burger Championship

World Chili Championship

World Dessert Championship

World Recipe Championship (with the theme of Breakfast)

World Sandwich Championship

World Seafood Championship

World Invitational Steak Championship
As it has from inception, WFC's championship week will also include an invitational World Chef Challenge event. In fact, this event will now feature a pasta challenge, which used to be its own category in prior years.
The first full week of January 2016 will feature two major announcements for the WFC competitor landscape: the 2016 qualifying events on Wednesday, Jan. 6, followed by the official dates for the 5th Annual World Food Championships on Friday, Jan. 8.
Highlights for the 2016 season include competitor registration opening Monday, Feb. 1, the broadcast premiere of the World Food Championships 2015 six-episode television series on Saturday, June 11, and the official 2016 competitor packets released online on Thursday, Sept. 1. More events and deadlines will be added to the calendar in the coming months, and the most complete information can always be found at
www.worldfoodchampionships.com
« Back to News