Happy Sandwich Winner in the happy egg co Online Recipe Contest
Share:
Posted Sep 30, 2015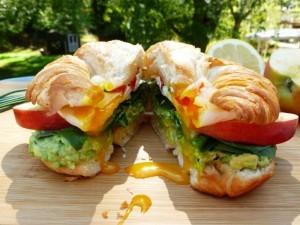 The winning recipe is……........Avocado-Kissed Egg 'N Apple Croissant Sandwich from Ronna Farley!
Congrats Ronna! With your winning recipe, you will receive a Golden Ticket to compete in the World Sandwich Championship, a waived registration fee and a travel stipend!
We would also like to congratulate the following entries as runners-up in the happy egg co,. online recipe contest. The four runners-up will receive a Golden Ticket (invitation) to compete in the 2015 World Sandwich Championship.

The runners-up are as follows:
Egg, Roasted Red Pepper, Lox, and Goat Cheese on Caraway Rye Lily Kayte

Sourdough Bread Bowl Style Beef Stew Sandwich and Fried The happy egg Yoshiharu Sogi

Italian Style Sloppy Happy Egg Sandwich Nancy Angelici

Basil Egg Bacon Cheese Sandwich Hidemi Walsh
« Back to News