Quick! Find Your Nearest Chevron or Texaco AND Sharpen Your Culinary Skills!
Share:
Posted Sep 29, 2015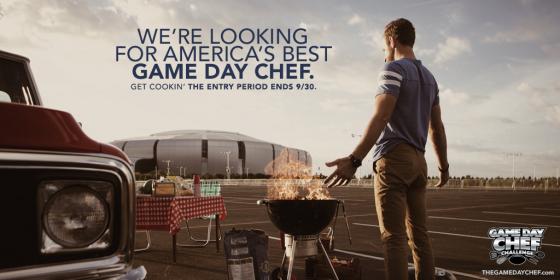 World Food Championships has teamed up with The Game Day Chef and YOU could end up with a winning game day dish and $25,000 in Chevron Gift Cards along with a Golden Ticket to enter the 2016 World Food Championships! All you have to do is incorporate one (1) ingredient purchased at a Chevron or Texaco station into your Game Day recipe!

BUT there are just two more days to enter this competition! Entries are due September 30, 2015 and must be entered at
www.thegamedaychef.com


This may be the first time the World Food Championships has been a part of The Game Day Chef, but you can find our Food Champs in the 2014 winners circle of this challenge! The 2014 competition held five regional cook-offs before crowning its champion and awarding $25,000 in Chevron gift cards at the Rose Bowl Stadium on January 1. As it turns out, the winner was a very familiar face to WFC contestants, because it was 2013 World Sandwich Champion Jennifer Daskevich. She had to beat out stiff competition throughout the regionals, including 2014 World Pasta Champion Suzanne Clark, who placed third at the final.

to learn more.
‪#‎
GameDayChef‬
« Back to News