Military Teams Bringing Culinary Arsenal to WFC:
Share:
Posted Sep 25, 2015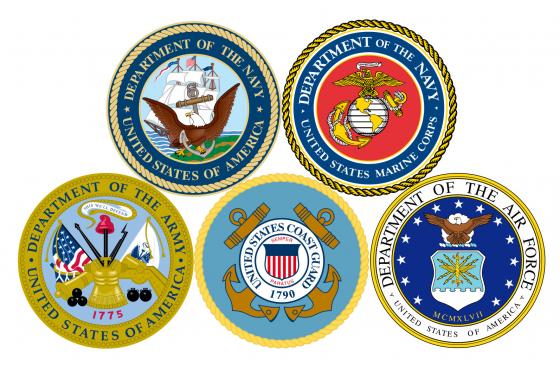 CELEBRATION, FL (Sept. 25, 2015) — For the first time in its four year history, the World Food Championships is proud to announce six branches of the U.S. military will compete in the world's largest Food Sport event, to be held Nov. 4-10 in Celebration, Florida.
Nearly 30 military chefs, sous chefs and support kitchen staff will account for six of the hundreds of cook teams expected from around the world who will fight for $350,000 in cash and prizes. Each Army, Navy, Air Force, Marine, Coast Guard and Pentagon team qualified by winning or placing at a WFC-affiliated Food Sport event within the last year.
"We qualified with a cocoa-spiced barbecue rib marinated in chocolate and beer," said Sgt. Monique Sorrell Williams, captain of the joint Army/Air Force competition team. "We try to throw chocolate into every recipe we make because I love chocolate. We would like to present that to the world again."
Williams is based at the Pentagon in Washington, D.C., an area of the country that is rich in accomplished military chefs. There, she and her husband (former Army enlisted) Courtney Williams convinced their four teammates to enter the unusual recipe last August in the USO Military Chefs Summer BBQ Battle at Kings Dominion theme park in Doswell, Virginia.
Paul Maloney, the executive chef at Kings Dominion, organized the inaugural Military-only event after a longtime military cook competition unexpectedly ceased. Maloney was well trained for the mission: his extensive experience includes 16 years of culinary service in the Navy; he has competed in several television cooking competitions and has won 14 professional American Culinary Federation Medals.
"There's serious rivalry between service branches, but the camaraderie is very strong, too," said Maloney, who is a 4-Star Military Executive Chef. "Absolutely, military participation presents a unique dynamic at these events."
World Food Championships CEO Mike McCloud said he is pleased to share the stage with the Military competitors and provide a platform for them to showcase their talents.
"Many of these competitors are personal chefs for top government and top military officials now," McCloud said. "They can do anything from fine dining dishes to BBQ to Ice Carvings — it's an extremely talented group."
Each of the teams will be competing in one of five cooking categories including pasta, seafood, sandwich, bacon, and recipe. World Food Championships salutes all servicemen and servicewomen who protect our country.
About the World Food Championships
The World Food Championships features more than 500 competitors seeking food fame and fortune in Kissimmee, Fla. The fourth annual event, scheduled for Nov 3 – 10, will invite the champions from the biggest and best food competitions around the world into a single high-stakes culinary showdown for hundreds of thousands of dollars. Following a tournament-style format across multiple iconic food categories, the WFC will culminate with a Final Table faceoff where category champions brave potential elimination in front of a live audience and a discerning panel of culinary celebrities.
For more information, visit worldfoodchampionships.com
« Back to News