Ingenuity and Hilarity Coming from Across the Pond; Wonky Donkey to Defend WFC People's Choice Chili
Share:
Posted Sep 18, 2015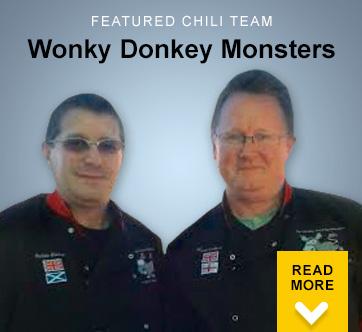 Their recipes pack the sweet, the heat, and some well-timed funny lines. The Wonky Donkeys, a well-humored and well-honed People's Choice chili champions is returning to the World Food Championships, Nov. 4-10 in Celebration, Florida.
"Winning People's Choice Chili last year was amazing," said Nick Latham, one half of the chili dynamo, from Sandy, United Kingdom. "And hopefully proved to everyone that even two British guys can cook a great chili."
Latham and cooking partner Robb Eadie, aka, the Wonky Donkeys, first met through their daughters who were at school together from the age of 6. The daughters are both 16 now and still great friends. Their fathers' friendship grew from traveling that path of parenting together. Now, with their prize winning chili, they are traveling the globe.
Each of the World Food Championships (WFC) Chili Teams stand to win cash prizes in the People's Choice competition. The event is scheduled from 3pm-5pm on Saturday Nov 7 in Downtown Celebration. Tickets are on sale now for the crowd (and taste bud) pleasing cookoff at WorldFoodChampionships.com/tickets
The ticket allows attendees to stroll through Camp Chili and deliberate which five (5) among all the world-class competitive chili recipes they would like to taste. Ticket holders then vote once for their favorite among those five. Each ticket affords five samples and one vote so it's possible to taste each recipe if desired. With all the votes tallied, it's up to the people to pick this year's People's Choice Chili winner.
Latham says the event is one of the week's most popular because while everyone has their own home cooked chili recipe, "maybe they can pick up some tips from all of the chili cooks here to improve their own."
Family and friends were shocked at Wonky Donkeys' success last year — none, perhaps, as shocked as the winning chefs themselves. After final scores were announced, their Facebook page captured it best: "Holy &$%# we just won people's choice chili."
The wonky competitors continue to rack up fame in their homeland, most recently being featured with their winning recipe in the national newspaper The Guardian. http://www.theguardian.com/lifeandstyle/2015/sep/10/the-wonky-donkeys-award-winning-chilli-recipe
The Wonky Donkeys will join dozens of food sport's top chili cooks this year in several category competitions this year at WFC.
« Back to News