Swedish Celebrity Chef Destined for WFC Burger Competition
Share:
Posted Sep 11, 2015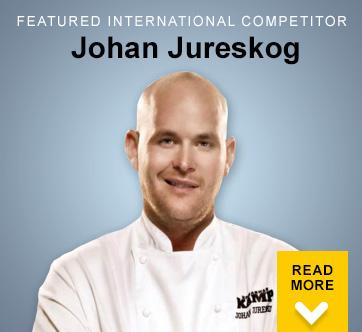 If there's such a thing as a meat sommelier, Chef Johan Jureskog is well on his way to becoming one. But regardless of his ultimate achievement, there's already a menu of reasons why Jureskog is commandeering a meaty resume!
In November, he'll represent Sweden in Kissimmee, Fla., at the World Food Championships in the Burger Category, which kicks off on Friday, Nov 6. Jureskog is a celebrity chef and owner of two successful restaurants — and has an impressive history of leaving culinary competitions victorious in his native Sweden and Europe.
"Chef Johan's face and name are well known throughout Sweden because of his regular appearances on the Swedish television equivalent of Good Morning America, Master Chef The Chew and other talk and cooking shows," said World Food Championships CEO Mike McCloud. "Make no mistake, though. Johan is a competitor in WFC because he is a winning chef who takes food sport seriously."
Chef Johan was awarded a Gold Medal from Sweden's Gastronomic Academy in 2009, an honor only 50 people in Sweden have ever received in the last 50 years. For eight years beginning in 2001, Jureskog was a member of the Swedish Culinary Team, which won a World championships in 2002 and then the Cooking Olympics in 2004.
Jureskog soon became a television celebrity chef on the talk show "Förkväll," broadcast on Sweden's largest network, making 110 appearances during the 2009-2010 season. He's a frequent guest in Sweden's most-watched morning television show, Nyhetsmorgon.
In 2013 Chef Jureskog competed on the eight-episode, prime-time TV show "Kockarnas Kamp" [Chef's Struggle], Sweden's largest chef challenge. In a contest pitting eight of the country's top chef against one another in tests of precision, speed, accuracy and stress resistance. Jureskog finished second, behind his friend Hakan Törnström from Gothenburg.
"It stung that I finished second," Jureskog said. "I always want to win. I always compete to do my best."
Last year Jureskog co-hosted and served as a jury member on Sweden's "Köksmästarna [Master Chef]."
The journey that led him to becoming one of his country's most respected chefs and soon, a competitor in a world arena, began at age 14 on a family trip to the Spanish Sun Island of Majorca.
"I went into some restaurants and just gaped," he said, recalling his visceral response. "I told my mother that I wanted to work as a chef. Everything felt so right."
Jureskog pursued food with passion, graduating number one among the 260 culinary students at St. George's, paying his culinary dues in Parisian and Swedish restaurants and learning about food and the people who love it, bolstered by his father's advice to "dress nicely, be polite and be nice to everyone."
When he was 27, he bought Rolfs Kitchen with friend Klas Ljungqvist. Both were employees who believed in the vision of the founder enough to purchase the kitchen, a venerable favorite of tourists and locals alike.
"The founder Rolf had an idea to invite the guest into the creation of the dish instead of just being served from a closed-up kitchen," Jureskog said. "That's why the kitchen is completely open, and from the bar you can follow the process of how a dish gets made."
Jureskog's reputation as a meat sommelier has flourished due to the success of his and Ljungqvist's second Stockholm restaurant, AG, representing the chemical name for silver to honor the building's beginnings as a silversmith workshop.
"AG is a restaurant for everybody, but truth to be told, mainly for meat lovers," the Chef said. "The meat is closest to our hearts. We have the best porterhouse, club steak, entrecôte and such in Sweden, hand picked…We even tenderize it ourselves – the results are on display in the large fridge by the entrance."
Since opening in 2011, AG has taken the Beringer's award for "Meat Restaurant of the Year" three consecutive years. It is called one of the 10 best meat restaurants in the world.
"We have received many prizes, but it is always doing a good job that is important," Jureskog said. "We always want the guests to be satisfied."
by Claudia Johnson, World Food Championships
« Back to News