Kansas City Steak Recipe Contest Winners Announced!
Share:
Posted Aug 14, 2015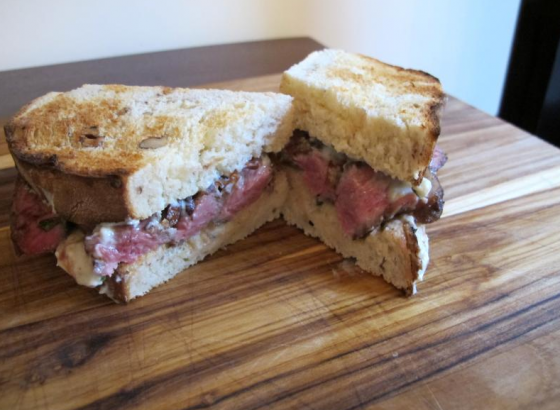 The "steaks" were high in this month's #FoodChamp recipe contest! We asked you to create your most creative and delicious version of a Ribeye Sandwich featuring Kansas City Steak Ribeyes, and you all definitely got your creative juices flowing!
There were many wonderful submissions and the judges did not have an easy decision to make! A special thank you to those judges — Wade Fortin, Two-time World Burger Champion, Dave Elliott, 2013 World Food Champion, and Marcy Johnson, Director of Brand Marketing for Kansas City Steak.
And now for the news you've been waiting for.... the winning recipes!
Drumroll, please………………. The grand prize winner for the Kansas City Steak online recipe contest is.........
Cabernet-Balsamic Black Mission Fig-Glazed walnut Toast Ribeye Sandwiches with Creamy Stiliton by Lisa Speer! Congratulations Lisa! With your winning recipe, you will receive a Golden Ticket to compete in the 2015 World Sandwich Championship, a waived registration fee and a travel stipend!
We would also like to congratulate the following entries as runners-up in the Kansas City Steaks online recipe contest. The four runners up will receive a Golden Ticket (invitation) to compete in the 2015 World Sandwich Championship. The runners-up are:
Pecan Encrusted Ribeye Sandwich with Gorgonzola Butter and Pinot Pepper Balsamic Jam by Chera Little
Bulgolgi Pepper Ribeye Sandwich with Citrus Cabbage Mandarin Mango Slaw by Brenda Watts
Grilled Ribeye Bahn-Mi by Bobby Parish
Pimento and Fried Green Tomato Steak Sandwich by Darlene Buerger
Thank you to all the #FoodChamps who submitted recipes for this contest!
« Back to News