Sadler's BBQ Legacy To Help Discover Next WFC BBQ Winner
Share:
Posted Aug 14, 2015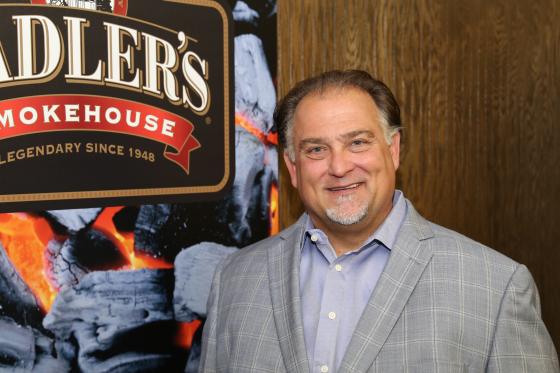 There are a number of people to turn to when you want to discover some secrets about great barbeque. Randy Sadler, senior vice-president of business development and co-owner of Sadler's Smokehouse, is one of them. That's why the World Food Championships tapped him to be a celebrity judge at the barbeque championship in November.
For more than 65 years, four generations of the Sadler family have been stewarding delicious, authentic barbeque that's slow-smoked for hours over wood coals. When Sadler's Smokehouse began as a drive-up carhop in Henderson, Texas, in 1948, folks drove from miles around to get a taste.
"My father has a real passion for making high quality, premium pit-smoked meats," Randy said, recalling how at age 11 he worked his first food show side-by-side with his father, Harold Sadler, who was always talking about barbeque.
In 1961, Harold Sadler opened up his own Sadler's Smokehouse in Lufkin, Texas, and soon realized that the demand for authentic, pit-smoked meats seemed insatiable. With the opening of their first food processing plant, the Sadlers decided to focus entirely on their fast emerging wholesale foodservice business.
It was only a matter of time before this authentic-tasting barbecue was on the shelves of stores across the country, and Randy was instrumental in that expansion, making Sadler's the first to bring pit-cooked meats to retail.
Since 1984, Sadler's Smokehouse been headquartered on a 40-acre business site with a 300,000 square foot state-of-the-art processing plant in Henderson, Texas.
"We've made numerous innovations around our facilities over the years, but cooking faster isn't one of them," Randy said, adding that his father's belief is that "perfection takes time and there is no compromising that slow smoked flavor."
Sadler's Smokehouse is not just the leader in barbeque but also is the leading manufacturer of traditional, classic Hispanic influenced recipes like barbacoa, carne guisada, taco meat, carnitas and seasoned and shredded meats for tacos, burritos and tamales.
"Our innovative food safety allows for the use of real spices, authentic meats and bold flavors," Randy explained. "Our High Pressure Locked Packaging lets us produce a safe product with an all natural process approved by the USDA."
In 2007, Sadler's partnered with Avure Technologies Inc., the global leader in High Pressure Pasteurization Technology, to improve product quality and safety in manufacturing Premium Pit-Smoked line of products, becoming one of an exclusive group of companies to use the technology on sliced meats.
"This process protects the flavor and the safety of our products against harmful bacteria," Randy said proudly. "Every year we have consistently scored in the top one percent for food safety and product quality."
Randy said that in addition to quality and safety standards, every bite of Sadler's Smokehouse brisket contains a very special ingredient – family legacy.
"The secret to great barbeque," Randy confided, "is keeping up a family tradition."
It's this very tradition of excellence that Randy will bring to the WFC barbecue championship to help crown the next BBQ champion. Let's hope all the competition teams do as well.
« Back to News