Heredia's Plan Simple for 2015 WFC – "Win Again"
Share:
Posted Jul 17, 2015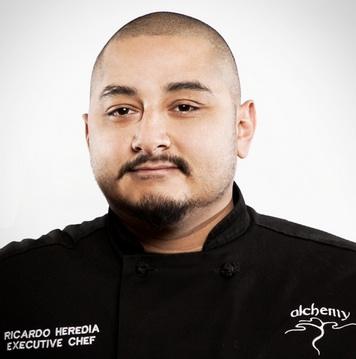 For 2014 World Food Champion Ricardo Heredia, the competitive field at this year's event is going to be tough. But in his mind, there's one intense competitor he knows he has to beat – himself.
"This is a culinary fight, and my biggest adversary is myself – [because of] a constant determination of betterment," he said. "In my mind, no other opponent exists."
You can hear the intensity in his voice – a vocal and mental recipe of determination, focus, confidence.
"My plan is simple," he said, half joking, half not. "I'm going to float like a butterfly and sting like a bee, to win it all again…and make history as the first back-to-back champion."
Heredia, who was World Food Bacon Champion in 2013 before returning in 2014 to defend and reclaim that title followed by his Final Table performance as the event's ultimate Grand Champion, acknowledged that the competition elevates each year.
"Emmy Award winning cooking competitions got nothing on WFC," he said. "This is the largest and most difficult cooking competition on the planet, and I will go toe-to-toe with anyone. Until you attend WFC you cannot understand the scope of just how difficult this competition really is and the great care taken by organizers and staff for a surreal experience."
Since becoming Grand Champion, his life has changed from the never-ending demands he knew as a chef in his San Diego restaurant.
"It's very relaxing!" he said of his current life. "I've started a consulting business called KM (Kitchen Mafioso), and I'm able to enjoy some simple things I haven't been able to do in the last 15 years as a chef. I went to a pop up dinner last month and realized that it was the very first food event that I attended as a guest."
Just because he is able to relax more doesn't mean he's not entering (and winning) competitions. Earlier this year Heredia competed in Avocado Madness, a competition that pitted 64 chefs from across the country with an avocado-themed dish each week until two remained. In the end, he and Los Angles Chef Dorian Southall battled it out for the $10,000 prize plus entry to World Food Championships 2015. Heredia admitted that he purposely missed WFC's registration deadline because he wanted to win his way back to the Championships – and he did.
"Food sport is the perfect fit for me," he said. "I set out on a quest last year to be the winningest competitor in food sport. The combination of relentless drive and letting no obstacle stop my progression coupled with the vast amounts of technique and flavor combinations I have studied over my life puts me in a unique category as a competitor."
He's diligently working toward relaunching his Scratch Education Program, an initiative to inspire elementary and middle school kids through culinary education.
"I am a huge proponent of self-expression, something that is on the endangered species list in our school systems," he observed. "I began cooking when I was as little as five or six, and the only thing my father ever taught me was how to cook eggs basting them with lard. Seeing the change as the proteins coagulated was like the coolest trick I had ever seen."
He's committed to bringing that experience to other children. Having already spent six years volunteering in the schools, he was especially proud when his former student, Nathan Odom, won the Master Chef Jr. competition on Fox and the $100,000 purse.
"Cooking to me is history, science, math, art, discipline...life," he said. "I use it to bring happiness, to teach valuable life lessons. To nourish minds and bellies alike. I use it as a political tool to help make changes in legislation to protect our planet and try to ensure the right for our children to inherit the beauty that we all enjoy."
The Chef draws on his childhood experience and his long relationship with food in his motivational speaking to foster kids and at juvenile correction facilities.
"We often had to feed ourselves the best way we knew how, which a lot of times meant stealing meat from the grocery store and raiding poor unsuspecting gardeners in the 'white' neighborhood," he recalled. "My sister would make us doughnuts using that dinner roll tube from the supermarket. Our candy was Kool-Aid mixed with sugar, and I would spend hours up in a mulberry tree gorging myself with stained violet little fingers. There were definitely some nightmarish experiences, but from a food perspective, there were memories of flavors and aromas that I will never forget. Like my first pig in a blanket, hay, fresh cut grass, the smell of a lake. I just simply try and explain these experiences through the language of food."
Such memories seem far removed from the $100,000 grand prize his bacon tamale with bacon salsa verde garnered at the 2014 Championships, and the knowledge that he beat out 399 of the best cooks in the world.
"World Grand Champion is a prestigious title that I take very seriously, and I hope I have gained some respect from my peers," he said. "It makes you smile when you have a nice healthy bank statement, too. Honestly, though, I feel blessed that I am able to help people out and change a few lives along the way and hopefully inspire others to give what they can when they can."

Claudia Johnson, World Food Championships
« Back to News