Westgate Town Center Named Official Hotel Partner for WFC
Share:
Posted Jun 12, 2015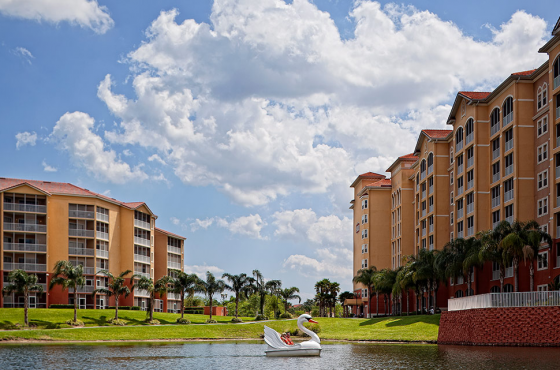 The World Food Championships has announced Westgate Town Center Resort & Spa as the first official hotel partner for the2015 event taking place in Kissimmee, Fla.
"With studio, one, two and three bedroom villa options, Westgate is ideally suited for the competitors and judges who need to be close to all the action but also need a first-class place to unwind," said David Siegel, CEO of Westgate Resorts.
Mike McCloud, CEO of World Food Championships, agreed.
"Westgate Town Center offers our competitors and judges great accommodations while making it possible for folks to jump a free shuttle and go back and forth from the main stage in downtown Celebration," he said.
McCloud said that guests at Westgate Town Center Resort & Spa can park their cars for the week and be transported from the main venues. He also noted that the BBQ Competition is taking place on the grounds of Westgate, making the resort especially attractive to the BBQ competitive teams and judges.
World Food Championships officials pointed out that Westgate Town Center Resort & Spa is the hub for competitor and judge check-in and will be the site of the Official Kick-Off Welcome Reception for all Competitors, Judges, Sponsors and Partners on Wednesday, Nov. 3.
"Westgate Town Center Resort and Spa is excited about being the hub for the World Food Championships this year," said Siegel. "We look forward to providing a great backdrop for the World Food Championships and to welcoming everyone in the mornings with a complimentary breakfast for two!"
Details for the room arrangements, special pricing structure and all of the amenities may be found at www.WorldFoodChampionships.com/hotels, along with the code for accessing the rooms. Interested World Food Championships travelers are encouraged to book early for best availability.
About Westgate Resorts
Founded in 1980 by David A. Siegel, Westgate Resorts is one of the largest resort developers in the United States. Westgate features 28 themed destination resorts with over 13,000 luxury villas in premier locations throughout the United States such as Orlando, Florida; Park City, Utah; Las Vegas, Nevada; Gatlinburg, Tennessee; Myrtle Beach, South Carolina; Williamsburg, Virginia; Miami, Florida; Branson, Missouri; Mesa, Arizona; and Tunica, Mississippi. Most Westgate Resorts locations feature a variety of unique restaurant, retail and spa concepts, including Drafts Sports Bar & Grill, Westgate Smokehouse Grill, Edge Steakhouse, Westgate Marketplace & Deli, and Serenity Spa by Westgate. For more information about Westgate Resorts, visit www.westgateresorts.com.
« Back to News