Penobscot McCrum Recipe Contest Winners Announced!
Share:
Posted Jun 10, 2015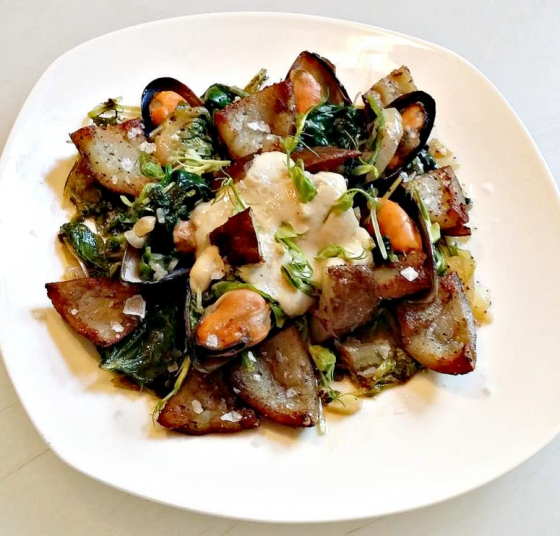 For this month's #FoodChamp online recipe contest, we asked you to feature Penobscot McCrum's Baked Potato Skins in your original seafood-themed recipes. With numerous entries, the judges had an incredibly tough decision to make when choosing their favorite recipes. Speaking of judges, we want to extend a huge "thank you" to Tim Hobbs (Maine Potato Board), Lesa Berard (Penobscot McCrum) and Ally Phillips (Allyskitchen.com) for serving as judges for this contest! And now for the results…… Drum roll, please!
After much deliberation, the winning recipe is "Steamed Mussels with Pan Fried Tater Skins & Sauteed Greens and Saffron White Sauce" by Nancy Manlove!
Congratulations Nancy — With your winning recipe, you will receive a Golden Ticket to compete in the 2015 World Seafood Championship, as well as a waived registration fee and travel stipend!
We would also like to congratulate the following entries as runners-up in the Penobscot McCrum online recipe contest. The four runners-up will receive a Golden Ticket (invitation) to compete in the 2015 World Seafood Championship! In no particular order, the runners-up are as follows:
"Bulgogi Style Fish Tacatoe Skins" by Lisa Keys
"Bodacious Lobster Bisque Bowls" by Laura Kurella
"Slaw-di-dah Tropical Shrimp Salad Tater Skins" by Lori McClain
"Coconut Curry Shrimp and Flat Iron Potato Grilled Cheese with Pad Thai Jam" by Chera Little
Thank you to all the #FoodChamps who submitted recipes for this contest — stay tuned for the announcement of our next online recipe contest!
« Back to News