WFC Announces a Rad Judge for 2015 Final Table
Share:
Posted May 22, 2015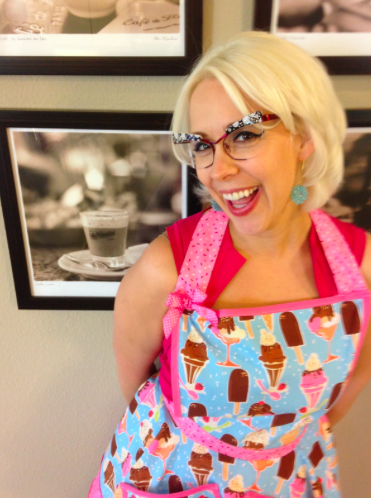 Retro Rad Chef and culinary educator Emily Ellyn is the Home Economics teacher you've always wanted. She single handedly started the Retro Rad cooking movement and encourages everyone to dig through their mother's recipe box, dust off their pressure cookers, take the old and make it new.
You've seen her on Food Network's "Food Network Star," "Cupcake Wars," "Cutthroat Kitchen" and morning news shows across the country. She's even made a cameo cartoon appearance on the "Simpsons." In November, she'll be a Final Table judge at the World Food Championships Nov. 3-10 in Kissimmee, Fla.
"If there's such a thing as a culinary crush, mine would be on Emily," said Mike McCloud, CEO of World Food Championships. "She is not only talented, smart, entertaining and crazy cool, but she makes cooking more fun than anyone I know. I can't wait to see her retro rad genius in full display again on our Final Table!"
With her quirky persona and trademark cat-eye glasses, Emily said she's excited about being in the middle of all the World Food Championship action.
"I get to eat my may through hundreds of chefs' dishes," she said with anticipation. "When it gets to the Final Table, I'll be sitting beside some of the most talented chefs in the world when we give away $100,000 to the winner.'
As a chef and a culinary educator, Emily supports the competitive opportunities created by the Championships for professional chefs and home cooks alike.
"I love that it provides a platform to bring them all together and celebrate them," she said.
Emily's culinary training began as a child in rural Ohio, where her family raised chickens, turkeys, pigs, cows, donkeys and horses. They also planted, grew, harvested and preserved much of the family's food.
"This of course, led to some serious cooking and scrumptiously yummy creations," she recalled. "The home was a gathering spot for family and friends who enjoyed cooking (and eating)."
Emily realized at an early age that food was her passion.
"From the time I could fire up the stove, I was planning parties and whipping up feasts for the seemingly endless parade of people that trooped through the kitchen," she said.
Everyone she served agreed that her tasty creations, vivacious personality and flair for presentation would make her a star within the hospitality industry.
"Traveling also influenced my love of food and cooking," she said, explaining that each year her family would explore a distant land and experience the customs and food of a different region. "By the time I left home to attend the Culinary Institute of America, I had eaten my way through more than a dozen countries and developed a serious travel bug."
Eager to dive into the culinary field, Emily worked in Cleveland's top restaurants and started her own catering company while still in high school. Upon leaving Ohio, Emily graduated with a degree in Restaurant Management from the Culinary Institute of America (CIA) in Hyde Park, New York. There, she worked as a teaching assistant until moving to Paris to attend graduate school at Academie Internationale de Management.
Emily then went on to earn two master's degrees in Hospitality Management – one in Paris and one from UCF's Rosen College of Hospitality and Management in Orlando, Fla.
Not only is she completing her Ph.D. in Food Service Education and prepping her first cookbook, she's developed a successful culinary television career and gained a loyal cult following. She writes for "edible" and "BAR" magazines and lectures at the University of Central Florida. Emily also donates her time helping non-profit organizations including Florida Hospital and Give Kids The World.
Learn more about Emily at EmilyEllyn.com.

Claudia Johnson, World Food Championships
« Back to News