Danielle "Diva Q" Dimovski tapped as Final Table judge for 2015 World Food Championships
Share:
Posted May 15, 2015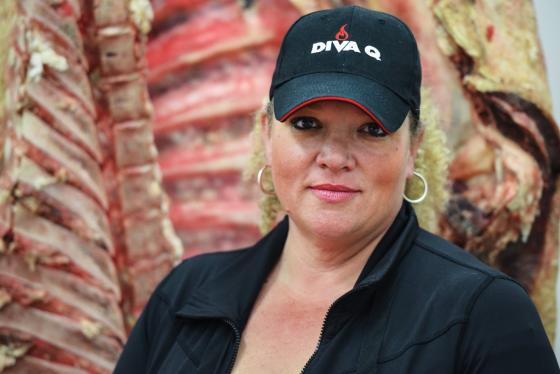 To food fans worldwide, she's known as the fearless woman who prowls the continent in search of great food. To professional competition teams, she's known as one of the most dynamic women in the sport. In barbecue nation, she's known simply as Diva Q. And there's less focus on Diva than there is the Q.
The World Food Championships is excited to announce that Danielle "Diva Q" Dimovski has been announced as the first Final Table judge at this year's championship in Kissimmee, Florida. For the barbeque teams, it's a blessing and a curse. The blessing? She won't be competing. The curse: she KNOWS what great barbecue is, and she will not be fooled!
Diva Q ­travels to all corners of North America from California to British Columbia and everywhere in between winning hundreds of awards in competitions, judging barbeque and eating barbeque anywhere it's served.
"BBQ to me is all encompassing," said Diva Q. "It is my BBQ family that I adore – the food and the community. The food is so deliciously old school, but now people are embracing new technology and applying it to old school techniques. I love the slow food movement that also showcases BBQ in its originality. There are so many areas where BBQ is dear to me."
Dimovski said her passion for barbeque knows no boundaries.
"I live, breathe and eat barbeque," she said. "It doesn't matter if it's a one man shack serving chicken over a hot charcoal-filled barrel on the side of the road or a high-end BBQ joint serving Q off of the latest in BBQ technology. I want it all, and I wants to know the stories behind these BBQ folks."
She is unlike anyone in the barbeque world. Dimovski is a Canadian, a female, a mother of three living in the suburbs.
"There isn't anywhere I won't go, anything I won't do or experience," she said. "I am doing everything I can to live a life without regrets. My greatest fear is not in dying but in not living."
World Food Championships CEO Mike McCloud said that Diva Q's product and technique demonstrations during the WFC will be informative and entertaining.
"Her larger than life personality is warm and inviting, a whole lot of fun and always amusing," McCloud said. "Listening to her talk and demonstrating all types of barbeque makes people smile with her insatiable appetite for all things barbecue and her straightforward attitude."
Diva Q's enthusiasm for barbeque and food sport has made her a star. She has been featured extensively in print media, including the Toronto Star (Chicks in the Pit), Toronto Sun (she's Champion of the Grill), Toronto Life (Girl on Grill Action – Ontario's BBQ Queen), Esquire (The Women of BBQ; BBQ Women to Watch), The Washington Post, Maxim and The National Post. On television, she's been a judge on the Travel Channel's "America Grilled" and a guest on the "Today Show," "Breakfast TV," "The Marilyn Denis Show," Rogers Daytime TV, CMT and Canada AM numerous times.
"I would like to think of myself as fearless," Diva Q said. "I don't play by traditional TV roles - I think j stand out because I embrace life fully. I have two mottos in life #wantmore & #unstoppable."
She has been featured on the TV programs "Playing House" from the W Network and for five episodes of "BBQ Pitmasters" on TLC as both a judge and a competitor. She also regularly contributes to barbeque podcasts and radio. She teaches barbeque classes throughout Canada and the U.S. She writes about her barbeque life and adventures on her websitewww.divaQ.ca.
"I have a degree in Marketing and Human Resources," Dimovski said. "Barbeque is much more fun. I have three amazing children Lexi, Ella and Gabe, and the fact they are proud of me is my greatest accomplishment."
Her show "BBQ Crawl" airs on the Travel Channel (U.S.), Food Network EMEA, Food Network S.A., Travel & Escape Network (Canada), Cottage Life Network (Canada) and A&E Australia.
"I think that I am very real," she said. "My show is not scripted. I have a genuine passion and love for all things barbeque and grilling. I also love meeting new people. I also love to inspire people to live their greatest life."
In addition to all her other activities, she makes herself available for corporate team building functions, VIP private catering, classes, media appearances on all things barbeque and trade show presentations.
As one of the highest ranked competitive barbequers on Canada's Kansas City Barbeque Society team, her recipes have been published many times in the KCBS cookbook. In 2016, she's releasing her own cookbook with 165 recipes she's prepared regularly over the years.
"I am proud of this project," she said. "The book is called Diva Q Barbecues for Family Friends & Fire – the same as one of my barbeque tattoos."
Diva Q is enthusiastic about the future.
"I have so many irons in the fire right now it is all sorts of awesome," she said, "from products to rubs and everything in between and even a few surprises. It is going to be an excellent BBQ future for my company."
It's no wonder she adopted "Life is too short for bad BBQ!" as her registered trademark and, clearly, as her mantra.

– Claudia Johnson, World Food Championships
« Back to News