WFC will feature "Chef Jernard's Amazing Little Chefs" as part of Family Fun in Kissimmee
Share:
Posted May 8, 2015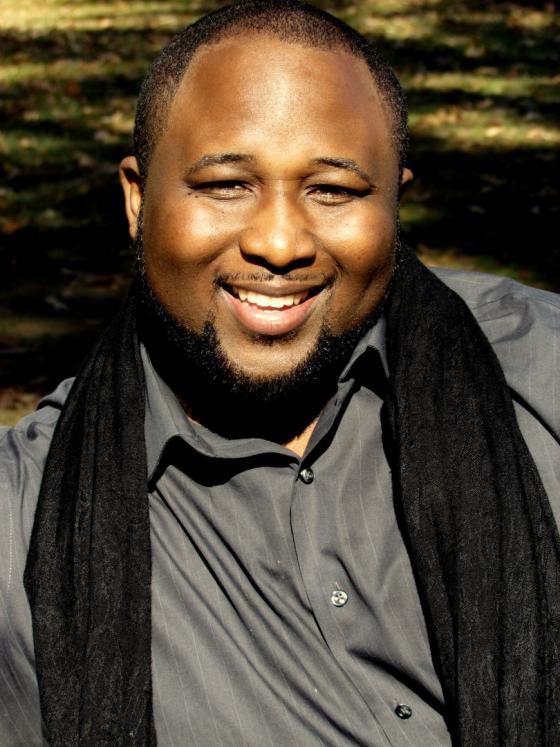 Known for his great sense of humor and culinary passion, Master Chef Jernard Wells has been called "the young Barry White of food." He's worked his art of cooking infusion on live audiences across the nation for more than eight years, but 2015 will be the first time he's brought "Tha Love Chef Jernard Live!" to the World Food Championships.
This year he will host Family Food Fun: Chef Jernard's Amazing Little Chefs.
"The 30-minute show will be a memorable blend of stand up comedy, exciting food combination creations, talk show antics, dancing and live music," Wells explained, adding that it is a perfect family entertainment option. "As the father of nine children, I have the experience to back up what I teach the children and their families about bonding in the kitchen and making cooking a fun and loving experience."
Audience interaction with Tha Love Chef's brand of energetic humor and culinary amusement will be strictly enforced throughout the show, according to Chef Jernard.
"If you're called upon as a an Amazing Little Chef assistant, you'll definitely want to put on the chef coat," Wells said, warning, "things tend to get messy."
Wells said the entire family will have a blast, especially as they dance along with the what he promises will soon be a hit dance, Tha Love Chef Shuffle.
Families will have two opportunities to participate in Family Food Fun: Chef Jernard's Amazing Little Chefs, according to Wells, who is no stranger to the World Food Championships or the spotlight.
In 2014 Wells was Second Runner Up in the World Champion Seafood category. He competed in the 2013 World Food Championships, which was televised in an FYI series. He can also be spotted on Ion on "2 Guys That Love 2 Cook" and on Food Network shows "Chef Wanted" With Anne Burrell, "Cutthroat Kitchen" With Alton Brown and "Cutthroat Kitchen Evilicous Tournament."
Accustomed to culinary associations with everyone from President Barack Obama to Paula Dean, Chef Jernard was on tour cooking for Tyler Perry and his team during their recent tour with his hit play "Madea's Big Happy Family." He also personally cooked for the rock band Lady Antebellum & the 70s band Heart.
A graduate of Memphis Culinary academy studying French and Asian cuisine with a Cajun flare, Chef Wells also attended the Art institute of Atlanta. He specializes in southern home cooking and entertaining for the real-life consumer. He is Executive Chef and President of Atlanta eatery, East Wave Asian Fusion.
The chef manufactures his own line of products under the trade name Le' Chef Amours Haute Cuisine Inc. His slogan is, "How could something so good be bottled up?"
"From steak sauce to barbecue sauce and exotic seasonings, this product line has any type of sauce or seasoning you need to make the taste just right," Wells said.
In addition to his numerous other culinary activities, Chef Jernard is dedicated to teaching cooking skills to adults as well as children.
"I like to teach people to prepare healthy foods even for those with dietary needs," he said, adding that a main focus is on teaching how to duplicate the same taste and results consistently.
Wells' Amazon best selling cookbook, 88 Ways to Her Heart: Cooking for Lovers, focuses on cooking demonstrations and helpful tips in the kitchen.
"It includes terrific ways to start sparks in a new relationship or keep the sparks sizzling for those already in love," Wells said, earning his name, Tha Love Chef.
His second book, The Weight of Expectations– Losing it All to Gain Everything, focuses on the expectations of life and achieving greatness spiritually and through healthy eating.
"That book paved the way paved the way for the next installment, Break Through, – The Weight of Expectations 2, which continues to build on enriching your life," he said.
Tha Love Chef 's booth at the World Food Championship will feature all of his products and books.
Chef Jernard's Amazing Little Chefs will be presented at the Cooking Academy several times throughout the WFC as part of Family Food Fun. Seating is limited, so get your tickets early at http://www.worldfoodchampionships.com/tickets.

Claudia Johnson, World Food Championships

« Back to News