Chef's Roll Official Chef Partner of 2015 WFC!
Share:
Posted Apr 28, 2015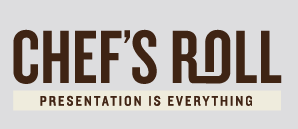 Professional chefs winning top honors in Chef's Plate competitions across North America this year are earning coveted competition spots in the World Food Championships set for Nov. 3-10 in Kissimmee, Fla., thanks to a new partnership between WFC and San Diego-based Chef's Roll, Inc.
Chef's Roll is a global culinary network of food industry professionals and is hosting eight Chef's Plate challenges as part of a WFC-inspired Food Sport series to uncover the best professional talent in the industry.
"Chef's Roll is one of the most inspiring and exciting communities in the culinary space," commented WFC President Mike McCloud. "As our new and Official Chef Partner, we are eager to see the level of talent competing in these Chef's Plate events as they earn their way to Kissimmee for the most prolific food fight in the world."
Two of the 2015 Chef's Plate events are completed, and winners from San Diego and St. Louis are already gearing up for the chance to win $100,000 during the multi-day WFC tournament. Chef's Plate winners from Chicago, Denver, Mexico, Dallas and New York City will join them, rounding out the total number of world-wide competitors who will attend WFC to approximately 500.
"The WFC is the Super Bowl of food competitions, a national stage for culinary professionals and enthusiasts to compete and be crowned the World Food Champion, said Thomas Keslinke, CEO of Chef's Roll. "We are honored to be a partner of this event."
Keslinke added that the 2015 Chef's Plate winners will be among the professional chefs conducting demonstrations and teaching culinary classes during the activity-packed WFC event week, all of which can be accessed online at www.worldfoodchampionships.com/tickets.
In addition to producing these WFC qualifier competitions, Chef's Roll is offering online profiles for every WFC competitor, including both professionals and amateurs, and joining WFC in co-promotion of the championships, the competitors and the food-sport industry as a whole.
« Back to News