Kenmore Returns as the Official Kitchen Appliance of the 2015 WFC!
Share:
Posted Apr 21, 2015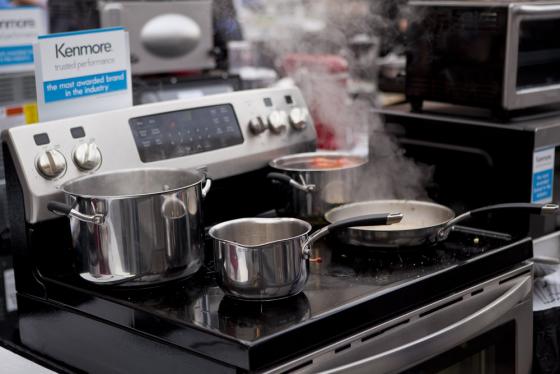 The World Food Championships (WFC) announced today the Kenmore® brand as the Official Kitchen Appliance of the 2015 competition. For the third year in a row, the Kenmore brand will provide appliances and equipment that is trusted to perform at the highest level to empower more than 500 champions as they compete at the World Food Championships, which will take place in Kissimmee, Fla., Nov. 3-10.

Last year, hundreds of competitors were able to display their culinary magic thanks to the appliances and support provided by Kenmore appliances," said Mike McCloud, president of the World Food Championships. "This is an incredible relationship with a world-class brand that performs extremely well under pressure, just like our event competitors."
The Kenmore brand first teamed with the WFC in 2013 as part of s the Kenmore brand's yearlong 100th anniversary celebration. Since then, Kenmore appliances have performed at the highest level of competition at WFC events under extreme conditions without malfunction. More than 1,000 championship recipes have been created by home cooks and pro chefs using Kenmore appliances. This year, in addition to providing appliances for the competition, the Kenmore brand will expand its presence by providing:
A "Kenmore Kitchen" area open to WFC public

attendees. It will host live cooking demonstrations using the latest Kenmore products

and allow attendees to register to win great prizes during the event.

A competition arena for competitors;

A talent search for cooks of all types who could potentially represent Kenmore throughout 2016.
"Over the years, we've seen cooking and baking transform to become a competitive sport," said Ryan Ostrom, Chief Marketing Officer, Kenmore, Craftsman, and DieHard. "The use of Kenmore appliances in the World Food Championships is a testament to the quality of our appliances and demonstrates our brand's commitment to and reputation for 'Trusted Performance.'
To stay in the World Food Championships chatter, visit www.worldfoodchampionships.com,
Facebook.com/WorldFoodChampionships or Twitter (@WorldFoodChamp). One never knows who could be taking the culinary world by storm this year!
« Back to News