'Que at the View awards Golden Ticket in BBQ!
Share:
Posted Apr 13, 2015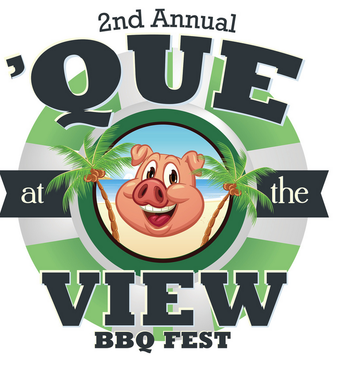 Island View Casino Resort's second annual Kansas City Barbecue Society-sanctioned competition and festival, 'Que at the View, offered fun, food and live entertainment for hundreds of ticket holders, as well as a position in the World Food Championships for the grand champion-winning competitor.
'Que at the View, which was held April 3 and 4 on the grounds of the 40-acre Gulfport, Miss., casino, represented KCBS's Mississippi championship and offered a total purse of $16,600 in cash and prizes.
The competition portion of the event featured 40 teams from across the country and a team from Leicestershire, U.K., collectively preparing an estimated 300 pounds of chicken, 550 pounds of ribs, 1,200 pounds of brisket and 2,200 pounds of pork. The approximately 4,250 pounds of meat were enjoyed by the crowd as well as submitted to a panel of KCBS-certified judges.
Team Bayou Boogie, from Hammond, La., captured the grand championship, $2,500 and qualifying positions in three notable barbecue competitions. The team 'Que'n, Stew'n & Brew'n, from Acworth, Ga., won the reserve champion position and $1,500.
After being founded just one year prior, 'Que at the View was recently distinguished as a preferred qualifier for the World Food Championships; therefore, Bayou Boogie, led by Barry Smith, won a guaranteed position in the 2015 World Food Championships competition and received the organization's coveted golden ticket. The event, which will feature nine categories and more than 400 pre-qualified teams, will be held in Kissimmee, Fla., Nov. 3- 10.
"Becoming a World Food Championships preferred qualifying event in such a short time is a true honor," Layton added. "It verifies that Island View's 'Que at the View has grown into an event to be recognized by competitors and food events enthusiasts, thereby raising the tourism profile of the area we call home to a new audience."
As the 'Que at the View grand champion, Bayou Boogie's registration fees and financial travel assistance will be provided for the competition, which features a $300,000 purse in cash and prizes.
« Back to News